The decision to live at home as an older adult can be a difficult one for loved ones, caretakers, and most of all, seniors themselves. That's why aging in place isn't a decision to be made alone – it means weighing a number of factors to determine what's best for you, your loved ones, and your home.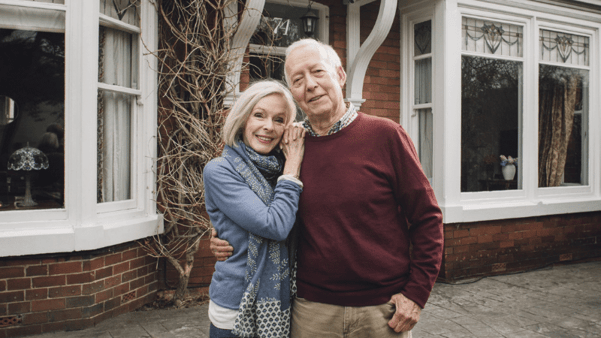 With the right resources, aging in place at home can be a safe, productive way to live in later years. But every lifestyle is different, and the decision to stay at home won't be right for every person and every situation. Fortunately, there are a few factors that can streamline the decision to age in place.
What makes someone a good candidate for aging in place?
When making the decision to stay at home or join a senior living community, we've found it useful to ask the following questions to establish comfort, capability, and alternatives.
What level of daily independence do they have? Bathing, dressing, eating, and getting around the house are just a few of the daily tasks seniors need to keep in mind if they're considering aging in place. Is their home adequately updated to meet their physical needs? Are family members or caretakers nearby to assist with the things they can't take care of themselves?
Is their home safe for aging in place? Even if someone has lived in the same home for decades, their house will likely need to be adapted to suit their changing physical abilities in later life. House updates can range from simple, like extra grab bars to get up and down stairs, to involved, like installing a stairlift or a zero-entry shower. Aging in place means making your home work for you specifically.
How much medical attention do they require? Medical equipment isn't an immediate disqualifier for aging in place. But seniors who require close medical care, involved procedures, or complex equipment (like dialysis, oxygen tanks, and intravenous medication) need to consider how their medical care would impact their day-to-day and long-term lifestyle.
What transportation options are available? We naturally become dependent on others to get around as we age. Seniors don't need to be fully mobile outside their houses to stay at home, but reliable transport is essential. Proximity to mobility-friendly public transit, nearby family with vehicles, paved walkways and sidewalks, or even ride-sharing services can be a senior's lifeblood for when they need to get out of the house.
Can they socialize in their current community? Social interaction is good for everyone, but it can be especially beneficial for the elderly. While most major health metrics decline with age, regular senior citizen socialization has been associated with improved memory, physical and emotional health, and even longer lifespans. Because it's easy for seniors living at home to feel disconnected from the world outside their door, building strong social connections is essential for maintaining quality of life while aging in place at home, whether it's family, neighbors, or anyone else they can interact with.
No two seniors' home lives will be exactly the same. That's why it's important to judge their readiness to live at home based on individual criteria and the aspects of their daily life. Loved ones and caretakers can help educate older adults on their options while respecting their preferred level of independence, comfort level with living alone, and ability to safely live out their golden years.