By Anne Meyers-Welsch
Twin Cities Habitat Staff
Twin Cities Habitat for Humanity was luckier than we realized when we welcomed Andrew Kinsel on to our volunteer team.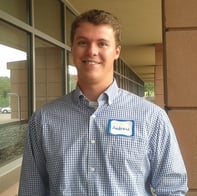 A recent grad from North Dakota State University in Construction Management, Andrew came home to Shoreview, MN in the middle of July for his sister's wedding. He stayed at home for the summer after graduation and began his search for a job. Andrew says he heard "through the grapevine" at his church, Cross of Glory in Mounds View, about construction volunteer opportunities with Twin Cities Habitat. He started volunteering at the new home in Frogtown. He says that he kept coming back to the site because he "loved everything about it! From the construction to meeting the homeowner and being able to hear his story and what this all means to his family and himself was really moving."
Andrew heard about the AmeriCorps program from his site supervisor, Melissa Steiner, and her AmeriCorps member, Moriah Baltz. AmeriCorps is a year-long commitment where members complete 1700 service hours with an organization and are paid a small living allowance. After completing the year they can qualify for an education award to go to their past or future education expenses.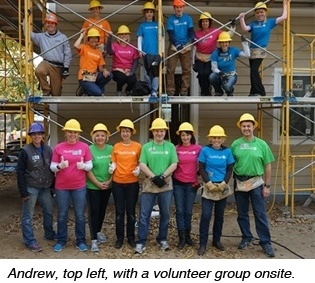 Andrew explains, "[The AmeriCorps program] seemed like a great opportunity to use and develop my skills as well as be able to help give back to our community. I kept coming back because I loved the experience and everyone was so nice and welcoming. It seemed like a great place to be and group of people to surround myself with."

When Andrew isn't serving, he spends the rest of his time enjoying his other interests: sports and the outdoors. He claims to "bleed purple and gold (SKOL Vikes!) as well as maroon and gold." And he'll root for the Wild forever, he just wishes they could bring the cup home one of these years. Andrew grew up playing hockey, football, baseball, and lacrosse. He loves fishing and hunting.

Andrew started his term with AmeriCorps at the beginning of September. He recounts: "So far, in the last few months I have absolutely loved this opportunity. I learn ten new things everyday. [It] definitely keeps me on my toes all day, that's for sure. It is also always exciting to meet new people every day and get to hear all their stories."

And next year? He's hoping to be back with AmeriCorps at Habitat for round two!