It's the look in their eyes that gives them away and on which I hone every Wednesday at whatever Twin Cities Habitat for Humanity site I'm working. I can shake my head in faux understanding with the best of them. But for self-preservation, I look for the heads that aren't shaking and for confidence that registers only through the eyes.
Even before she donned her pink hard hat and tool-belt, I was drawn to volunteer Jenny Michaelson, and was grateful that Habitat construction site supervisor Dave Madzo assigned me to help her finish the soffit and fascia installation on the west side of the East Jessamine Avenue house and garage we're constructing in Saint Paul.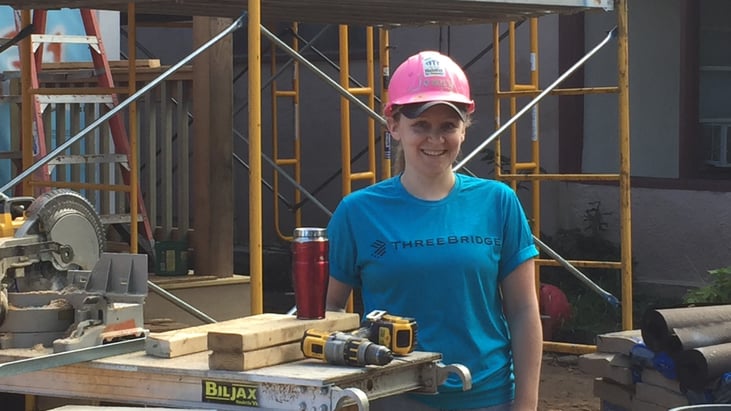 I learned later what her eyes already told me — she was steeped in this kind of work on many levels. Her father, Dave Michaelson, is a Habitat construction site supervisor and she has joined him on Habitat Global Village Trips to El Salvador three times. After graduating from St. Catherine University, she spent two years as an AmeriCorps member working on Habitat projects. During that time, she met her current boss at Three Bridge Solutions, a Minneapolis-based firm that provides custom consulting solutions for modern business challenges.
But her volunteer roots go even deeper. Her grandfather Jack O'Donnell, a World War II Navy veteran who retired from Procter & Gamble the year she was born, and his wife, Marion, have made volunteering an essential part of their lives.
"Grandpa Jack always advised us not to retire from something but to something," Jenny Michaelson, 31, said. "He still volunteers a couple of days a week at the Veterans Administration."
Her mother, Kathleen, a former banker whom most recently worked for the Minnesota Humanities Center, has retired and volunteers at several organizations, including joining her husband on Habitat Global Village builds. "That is how I got hooked into Habitat," Jenny said. "My honor's thesis in college was on history, culture and housing in El Salvador. And, during senior year I co-led a Habitat Global Village Trip to El Salvador with my dad as part of my honor's project." During that trip, she met the AmeriCorps program director for Twin Cities Habitat and later decided to apply.
"I learned on the job how to build a house from my AmeriCorps experience," she said. "Some of the days we had one-on-one training, particularly during the winter months."
"My dad taught me — and I have come to understand myself — that Habitat is not a hand out but a hand up," she said. "The families are paying mortgages on good, decent homes that they could not have afforded otherwise."
That's all well and good, of course, but why the hot pink hard hat and tool-belt in the overwhelming masculine construction world? "My brother Mark thought it was funny when I became a construction worker," she explained. "All through my childhood, I was on ballet and dance teams. I didn't do things that got me dirty. I didn't want to take mud-pies, for example. That's why he gave me hot pink tool belt and hard hat."
"I'm eternally grateful for the experience of working on a Habitat site," she said. "I enjoy the work and talking to other volunteers and staff. They all believe so much in what they are doing. That are so motivated to build the best house they can. Oh, by the way, that piece needs to be locked in. Push it a little harder," she noted as I strained with the two rectangle pieces of soffit, while standing precariously on a ladder.