I'm not a serious cyclist and have never been, but I wouldn't miss the Habitat 500 for anything.
I had bought a comfort style bike in 2007 because I was 47 and out of shape. Late that year I learned I had colon cancer, had surgery, and started 6 month of chemotherapy. Fortunately, I had that bike, and rode it to help with recovery in 2008.
My oldest of two sons, Seth, was becoming interested in cycling and that summer my cousin took him on his first Habitat 500. After that ride Seth was hooked, and as I began to regain my strength he challenged me to work toward riding it with him in the future. I told him that I would ride if two conditions were met: one, if the route went through Northern Minnesota (I just love Northern Minnesota), and if the date did not overlap with our Boy Scout summer camp (I was Scoutmaster). Sure enough, in 2010 the conditions were met, and I was committed.
I purchased a road bike and began to train in earnest. That first ride was fantastic. I finished the whole 500 miles, and had been welcomed to the Habitat 500 family. Yes, the people who ride the 500 really are one big family. Some are serious riders, but most are like me, looking for a challenge while working for a great cause. Nearly everyone on the ride is very passionate about Habitat for Humanity, and now so am I.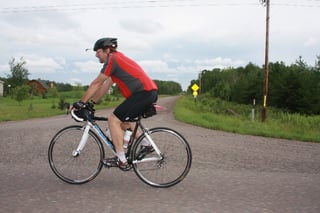 Yes, I was familiar with and interested in Habitat before the ride, but the passion of the other riders was contagious. Even more impactful was the chance to meet and get to know Habitat homeowners, hear their stories, and witness the impact Habitat has made on them. I was hooked.
In the fall of 2011 my wife said she wanted to be a part of this too, and suggested we ride a tandem bike in 2012, her fist ride. Since then we have ridden every ride, sometimes on the tandem and sometimes on our individual bikes. Some years we haven't been able to train enough so we rode as a team, splitting up the day. When they can our sons join us.
Our goal for the family is to always raise as much as we can each year to help our Church, St. Andrews Lutheran in Mahtomedi, fund our Habitat home build every year. I help build when I can, and my wife and I love to serve lunch to the crew a couple of times a year. Both of our boys have spent many summer weeks building and have learned a lot as a benefit. Then every year shortly after the Habitat 500 ends, we start thinking about the next one, the Habitat 500 family, and all the Habitat Families we have met and will meet in the future.
Terry Spawn