We recently held a Stories of Home Contest where we asked Twin Cities Habitat homeowners to share a story answering the question: "What does your home mean to you?" Here's one of the stories in the homeowner's own voice. Story and photos shared with their permission.
Written by Ana B., Habitat Homeowner since 2017.
First off, let me start by introducing myself and my family. My name is Ana. I work at Hennepin County Medical Center, and I am a mom to 3 beautiful kids. Eli is 15 and a sophomore in high school, loves to play the guitar and piano, and is an amazing older brother. Kenndra is 13 and in the 7th grade, and she loves to spend her free time with her baby brother and driving her older brother crazy! And when she is not doing that, she spends time in her room drawing and reading books. Myles is 1 and full of energy and keeps all of us on our feet, and I wouldn't have it any other way.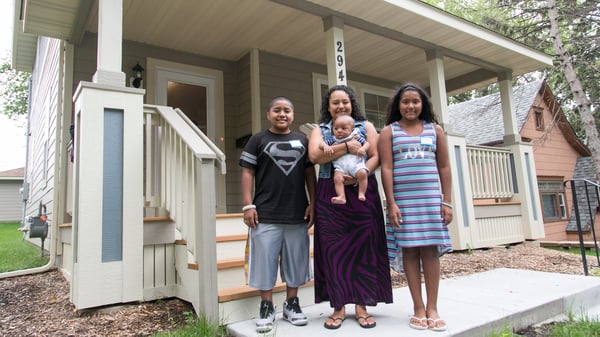 Now let me share how my journey with Habitat began. When I moved back to Minnesota I moved in with my brother. Within a year he got engaged and was ready to start his own life. For me that meant having to find a place to live with my kids. That is when I came across the Habitat for Humanity website, and with a couple of clicks and answered questions I was on the waiting list, which was two years. Within that time frame I still had to find a place I could afford for my family. Thank God we found a one-bedroom house that was affordable yet small.
While there I continued to search for my forever home. I applied through a bank for a loan but, shocker, I was denied. To say I was devastated would not even begin to explain how I was feeling when I read that letter. Of course, I didn't want my kids to see me sad and crying so I went into the bathroom and prayed. I asked God for patience and to allow me to be able to give my kids a home, a stable place for them to grow up in and make memories.
About two months later I received an email from Habitat informing me that I had been selected to start my process in becoming a Habitat homeowner. I was beyond excited and thanked God for answering my prayers. And so I began my process with Habitat. That is when I meet Adade Amenounve, my financial coach. He went over all the steps I had to do in order to get my credit score up as well as how to start a budget and keep up with it. To say he was amazing would not be enough. He had such patience and explained everything to me, he was always ready to answer any questions I had, and if he wasn't sure about a question I had, he would find out and call me back.
Once I had all my ducks in a row it was time to start my classes for homeownership, which would introduce me to Linda Griffin, another amazing person. She did all the requirement training and sweat equity classes and gave me the strength and encouragement I needed when times got rough. And there were a lot of those days. As I started doing my hours, I had a surprise and Myles was born two months early. So while dealing with my newborn and my older two kids I needed to finish my hours, and the quicker I got them done, the better.
I was so blessed to have the help of my family and friends and everyone at Habitat who kept encouraging me and showing me that I was one step closer to making my dream come true. By the grace of God and my family I finished 250 hours of sweat equity, bringing me closer to my dream.
I then meet with Maureen Holman to start my loan application. Yes, I could see the light at the end of the tunnel. I started my loan application process and got a list of homes that were available. I drove around with the list in my hand and scoped out the areas. I had my kids in the car with me and we were all so excited to see the houses even if it was just from the outside. We picked our top three and waited to hear back to see if we were a match for any of the homes.
I then got the call I was so anxiously waiting for: I had my house. All that was left was to sign papers and get my keys. On September 15, 2017, I became a homeowner. Walking out of the building with the keys to my house is a feeling I will never ever forget. To finally be able to tell my kids we did it!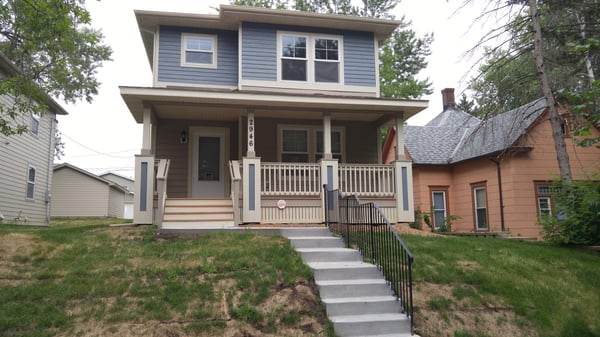 What does my home mean to me? It means my kids will always have a safe place to come home to, a place where Eli can play his instruments without us getting a noise complaint notice. A place where Myles can run around without upsetting the "people downstairs." A place where Kenndra can be as silly as she wants to be without having to worry about the "time." A place where, when I've had a crazy busy day at work, I can come home and relax, of course depending on the mood my kids are in. A place where we can share quality family time and make beautiful memories that will last a lifetime. My home means we will always have a warm place to sleep during our wonderful Minnesota winters. And a backyard where my kids can run around in and enjoy the beautiful weather and have a nice family get together.
What does my home mean to me? Plain and simple: a blessing from God. I will forever be grateful for Habitat and all the amazing people I met along the way. Thank you for making my dreams come true.