What does a city do when an unfinished 40-home housing development bankrupts two developers in less than four years?
Back in 2006, with the housing market beginning its sharp decline, Heritage Development was forced to halt progress on their ambitious 40-home Woodbury community, Garden Gate. Hope was briefly rekindled when C.S.S. Builders, Inc. took up the task of completing the remaining 30 units. But by 2008, the housing market had gone into free-fall, and CSS too was forced to stop work on the development after completing just six homes.
Garden Gate's 24 remaining lots sat abandoned; homes, driveways, roads, sidewalks, retaining walls, fire lanes -- even a playground -- left unfinished. By 2009, the housing market had hit rock bottom and developers weren't interested in taking over the project.
Suddenly, Woodbury had a vacant neighborhood, without a developer or a plan.
Fortunately, Twin Cities Habitat for Humanity has maintained a successful relationship with the city of Woodbury for many years. In fact, Woodbury is the top suburb for Habitat for Humanity homes, with 67 multi-unit properties built to date.

"The success of this project and our relationship was due to a collaborative effort between Habitat for Humanity, the City of Woodbury, the County, the Woodbury Community Foundation, all the volunteers, and the new homeowners," commented Woodbury Mayor, Mary Giuliani Stephens.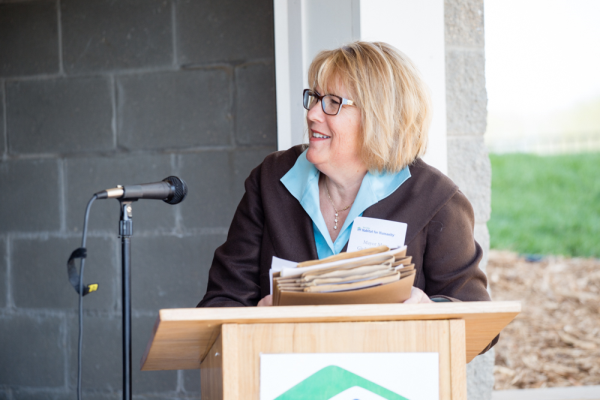 Mayor Stephens addresses the new homeowners and Habitat volunteers during a Garden Gate Dedication on May 17th.
The city helped facilitate Twin Cities Habitat's purchase of the unfinished homes. Purchasing Garden Gate wasn't merely about building houses, however. In addition to a massive 24 home commitment, Twin Cities Habitat also had to complete Garden Gate's undeveloped infrastructure and find families to live there.
"We were happy to see that there was positive momentum for the site amidst a set of otherwise challenging economic conditions," said Karl Batalden, Woodbury's Housing and Economic Development Coordinator.
With 34 of the 40 homes now built and six more scheduled to be completed in 2014, Twin Cities Habitat is about to complete the enormous project.
"A once challenging development is now being built out, infrastructure completed, and a new and vibrant neighborhood has its place in our community," said Mayor Stephens.
The new development is a dream come true for dozens of families in Woodbury who now own Habitat homes.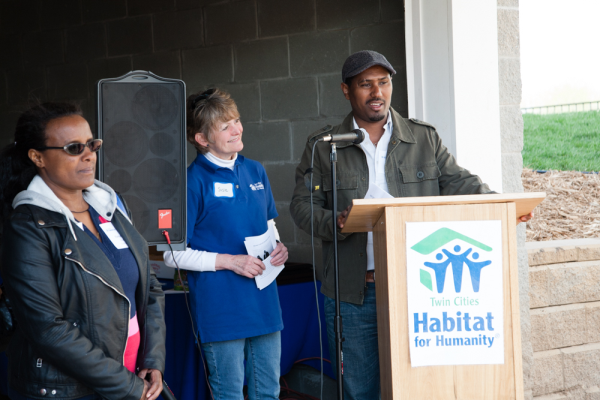 A new homeowner thanks volunteers during the dedication ceremony on May 17th.
"The City is proud to offer residential options to all households who wish to reside in the community. Habitat plays a key role in the production of affordable ownership options to help meet that goal," Karl noted.
Jackie Faser now lives in Woodbury. Before purchasing her Twin Cities Habitat for Humanity home, Jackie lived in an inner-city neighborhood, just four doors down from where she grew up.
"The neighborhood had changed dramatically. It really deteriorated. We woke up to sirens almost every night," Jackie said in 2012. A single mother of two boys – Xavier, age 11, and Payton, age 7 – Jackie worried constantly about their safety in their old neighborhood.
"It still hasn't sunk in yet that we live here. I feel like I can finally relax," Jackie said of her new home in Woodbury.
For Jackie, the collaboration between Woodbury and Twin Cities Habitat has meant peace of mind and a more hopeful future. She is looking forward to her sons receiving a good education and attending college. Habitat's work on Garden Gate is just another step forward in our mission to provide decent, affordable homes to people like Jackie. We couldn't ask for a better partner in that mission than the city of Woodbury.

"It has been fun to watch the volunteers build these houses and we wish Twin Cities Habitat for Humanity the best of luck with future builds," Karl said.