Our Veterans Initiative has a busy month ahead! Take a look at the events that are coming up within the next few weeks:
J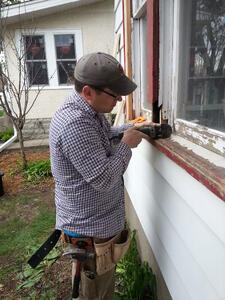 uly 9, 2014
2014 DEED Veterans Career Fair
10 a.m. – 3 p.m.
Earle Brown Heritage Center
6155 Earle Brown Drive
Brooklyn Center, MN 55430
Open and free to all veterans seeking employment.
July 16, 2014
Upcoming Homeowner Exploration Sessions
Two sessions: one at 12:15 p.m. and one at 2:15 p.m.
Join Twin Cities Habitat for an all-military exploration session to learn more and take the next step toward Habitat homeownership. To reserve your spot or request more information, contact Alex Schueller at 612-305-7117.
July 23, 2014
Upcoming Veterans Steering Committee Meeting
6:30pm
If you are a veteran and are interested in attending the meeting, please contact Alex Schueller at 612-305-7117.
Formation of the Veterans Steering Committee
Earlier this month, Twin Cities Habitat for Humanity formed a Veterans Steering Committee. The inaugural Veterans Steering Committee meeting occurred on June 11, 2014, where a group of veteran volunteers gathered to discuss ways to better help their communities and their fellow service members. The committee will be working toward providing help directly to local veterans, as well as reaching out to veterans who could benefit from Habitat's programs. If you are interested in learning more about or helping with our Veterans Initiative, please contact Alex Schueller at 612-305-7117.