A Habitat for Humanity partner, Pronto Heating and Air Conditioning, donated a brand new heating system to Gene Hedy, one of our A Brush With Kindness family partners. Gene is a Vietnam and Afghanistan veteran, as well as a widower. Like many of the A Brush With Kindness partner families, Gene was struggling to stay in his home due to a failing heating system. With the harsh conditions and freezing temperatures this past winter, Gene was in great need of a replacement HVAC unit.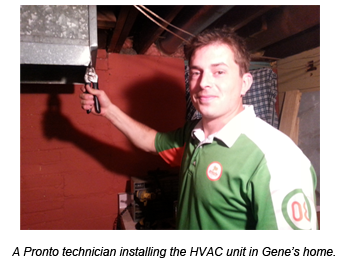 "Working with Twin Cities Habitat gave us a great opportunity to grow our connection with the community, while giving tangible help to someone who is facing hardship," said Pronto Heating and Air Conditioning President, Wade Sedgwick.
As one of Habitat's corporate partners, Pronto Heating and Air Conditioning is one of the local companies that support Habitat through the donation of in-kind services and materials. These types of donations total an average of over $2,000,000 each year, and are an essential resource that enables Twin Cities Habitat for Humanity to build over 50 new homes and preserve an additional 130 homes each year.
"One of the great results of this partnership was that we could meet the needs of one our homeowners that we would otherwise be unable to," said A Brush With Kindness Program Coordinator, Allie Berg. "These partnerships are vital to us. A Brush With Kindness helps 120-130 homeowners a year, and most of them have mechanical needs that are beyond the scope of our program without the partnership of a licensed contractor. We were so thankful to Pronto for helping us assure that Gene will be able to stay warm during the upcoming winter."
Thank you to our partner, Pronto Heating and Air Conditioning, for your continued support of Twin Cities Habitat families!