I love good windows in a home. They can make all the difference. If done right, you'll get better light, your energy bills will be lower and your house will feel like a home. That's why Twin Cities Habitat for Humanity is so fortunate to have such a strong partnership with Minnesota-based Andersen.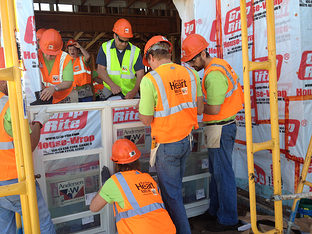 They've been helping us build homes for working, low-income families in the Twin Cities for more than 20 years. Andersen Windows, Renewal by Andersen and the Andersen Corporate Foundation are all involved in our work now.

This summer, crews of volunteers from Renewal by Andersen are working at our newest set of townhomes going up at the Mississippi Dunes Estates in Cottage Grove. The Habitat Site Supervisors made sure it timed out so that the tons of Andersen windows going in the homes arrived just in time for the Andersen employees to install them. A lot of the workers thought it was pretty cool to see exactly what happens to all those beautiful windows once they leave the factory. Seth, who worked in construction for 14 year before joining Andersen, acted as a crew leader and gave everyone a quick lesson in installing the windows.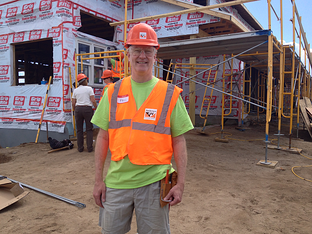 Paul Delahunt, the President of Renewal by Andersen, was there to see it all come together. He says it just makes a lot of sense for Renewal by Andersen and Habitat for Humanity to work together since ones a supplier and ones a builder and they both care a lot about a quality finished product.
Up next for Andersen & Habitat, the 2014 Jimmy and Rosalynn Carter Work Project in Texas in October. Andersen is donating the windows for all the homes that week and sending some employees and retirees to lead volunteer crews.
Andersen was also a big part of the Carter Work Project when it was in the Twin Cities in 2010. "Andersen's commitment to Habitat is wonderful," says Mary Schumacher, Chief Operations Officer at Twin Cities Habitat. "They're with us year after year. They bring volunteers, in-kind product donations and financial donations to the table so the partnership is tremendous."

Last year, the Renewal by Andersen employees helped build the first set of four Habitat townhomes in Mississippi Dunes Estates. I asked them about it and everyone who'd done it the year before remembered it being 100 degrees and extremely humid - so they were excited to have better working conditions this year.
The volunteering spirit even sweeps up the interns at Andersen. Mindy Sachs, the Community Relationship Specialist at Andersen Corporation, helped organize dozens of Andersen interns to do a team building (and home building) day with a different Habitat for Humanity affiliate.

Generous in-kind donors, like Andersen, are critical to keeping down the costs of Habitat homes. We've got a lot of great partners but we can always use more.