We're excited to announce that all summer long (June 1 - August 31, 2017), we will be the featured Charity Partner of Sencha Tea Bars here in the Twin Cities! As part of this partnership, Sencha has created a new summer drink to support Habitat for Humanity: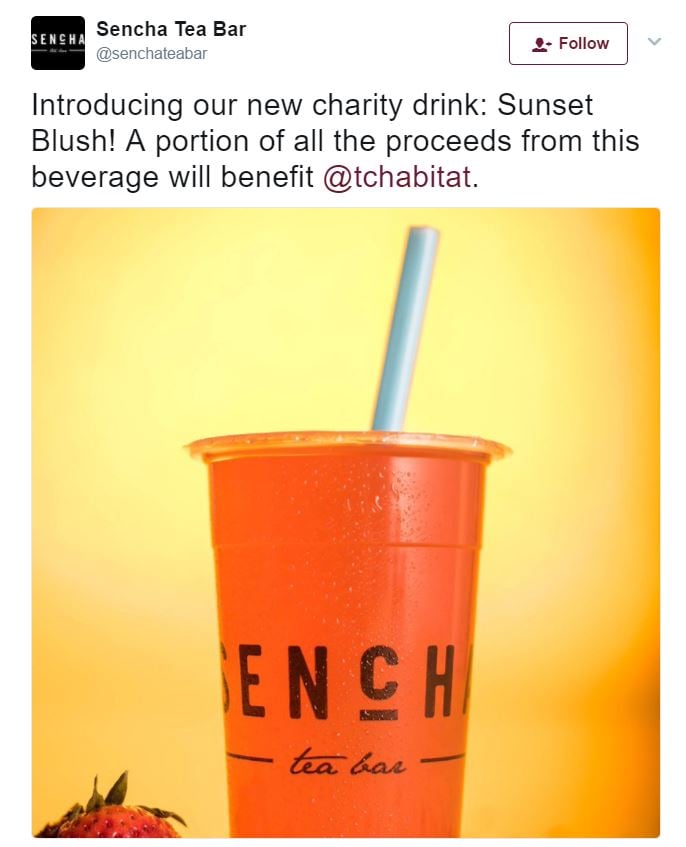 "We're very excited about this opportunity," said Julia from Twin Cities Habitat. "We love working with local businesses to develop innovative partnerships that can both increase brand awareness and support the building of affordable housing in The Twin Cities. It's a win-win."
"Sencha Tea Bar is very excited to be working with Twin Cities Habitat as our summer charity partner!" said Josh Traczek, Vice President of Strategic Growth & Development at Sencha Tea Bar. "A large part of what drives us is being good stewards of each community that we're in and Habitat is a perfect compliment to this mission with all of the wonderful work they do to build and foster a sense of community throughout the Twin Cities."
Stop by any of these local Sencha Tea Bar locations and order a Sunset Blush to support Habitat for Humanity:
University of Minnesota
825 Washington Ave SE
Minneapolis, MN 55414
Uptown
2601 Hennepin Avenue S
Minneapolis, MN 55408

Woodbury
783 Radio Drive
Woodbury, MN 55125

Mall of America
60 East Broadway
Bloomington, MN 55425

St. Paul
1692 Grand Ave
St. Paul, MN 55105
In addition to donating a portion of the proceeds of this special drink, Sencha Tea Bars will also be sponsoring a local rider in the Bike & Build ride in support of affordable housing next month!
Interested in learning more about cause marketing opportunities with Twin Cities Habitat? Email riley.moynihan@tchabitat.org.
Photos courtesy of @senchateabar.