D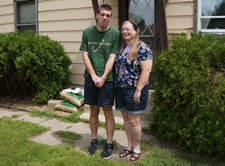 iana Foster lives in Bloomington, Minn., and is a single mother of two disabled children. Prior to partnering with Twin Cities Habitat for Humanity, Diana and her two sons lived in an unmaintainable house with a leaking roof, wet basement, rotted, insect-infested siding and a list of safety issues throughout.
The chief problem with the home was the siding, which was literally falling off the home. The city had given her numerous citations, but after taking on a second mortgage to cover medical bills, she lacked the resources to hire a contractor to replace it.
For Diana, the task of taking care of two adults with disabilities and trying to maintain her home has been trying – to say the least.
Diana applied to a few programs (including Extreme Home Makeover), but was turned down each time. Finally, Diana's sisters took it upon themselves to do some research to find help for Diana and her family. That's when they found Twin Cities Habitat's A Brush with Kindness (ABWK) program.
"I'm just amazed at what they've been able to do," Diana remarked. "Our home has never looked this good."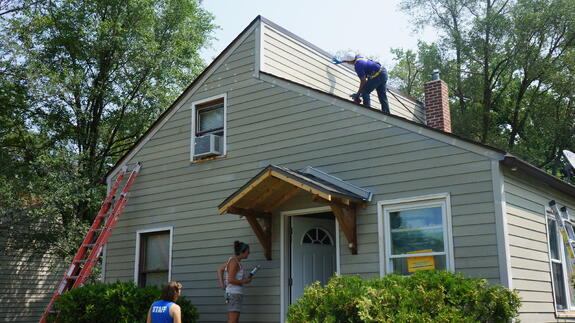 Diana's home has been a series of projects for the A Brush with Kindness team. They began by providing roofing and waterproofing materials, so that Diana's brother, along with other family members and friends, could form a Homeowner team and tackle putting on a new roof that the home desperately needed. During the winter months, ABWK staff and volunteers set to priming and painting the bathroom ceiling, repairing damaged drywall, and prepping, priming and painting the trim and walls in the kitchen.
Bloomington Chamber of Commerce volunteers helped with demolition tasks and the Tyvek house wrap. Over the past few weeks, ABWK staff and the South Metro Regular Volunteer Crew have been tearing off the old, deteriorated siding, and replacing it with donated HardiePlank. The new siding is a durable, low maintenance product with a 50 year warranty. The volunteers also replaced exterior doors and rotting window sills, and rebuilt the roof overhangs at the front and back of the home. Last Wednesday, volunteers from U.S. Bank kicked off their month-long series of ABWK projects by helping with paint preparation work on the exterior of the home and garage, and also tackled the painting of the siding.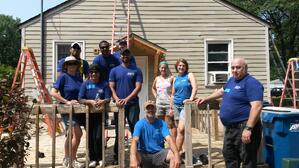 "It's so nice to be out with my coworkers as a team, making a difference in the community," said Vicki, a local U.S. Bank volunteer.
Diana and her two sons continue to be thrilled with all of the progress that's been made. Even more so, they appreciate that these efforts will prevent their house from being condemned and help the family stay in their home.
"People don't realize what a huge impact it is," said Diana. "They do such good, quality work. I honestly didn't expect it to be perfect, but the staff and volunteers pay such close attention to detail…I never expected it to look this nice!"
With the work completed, Diana will be able to focus on paying down her medical bills, and look forward to having her sons stay with her, instead of being placed in a group home.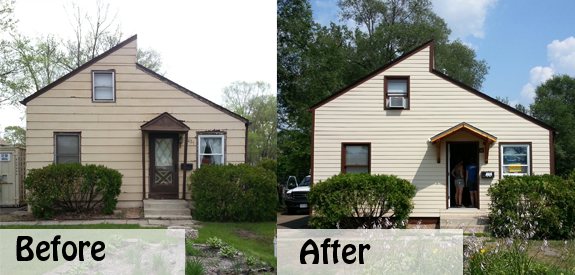 "Diana's family story is a perfect example of how A Brush With Kindness donors and volunteers help stabilize families in need," said Allie Berg, Project and Family Coordinator for A Brush with Kindness. "Many of our low-income families who apply to the program face tough choices regarding the direction of their limited finances. With the help of donors and volunteers, repairs become one less challenge for ABWK families to face, which allows them to take care of other pressing matters, such as medical expenses. The smiles and hugs that volunteers received from Diana and her sons show just how much of an impact we can make in the lives of our families."