Cassandra loves her block in the Phillips neighborhood of Minneapolis. She bought her home in 2002, and liked that it was close to everything—to her studies at the University of Minnesota, and to her job at Ameriprise in downtown Minneapolis. She has a long-term tenant upstairs, which makes it more affordable.
"I love my neighbors, and I'm very lucky to live in my neighborhood," Cassandra says.
Above: Cassandra's house toward the beginning of painting (L) and the end of painting (R).
A few years ago, things were going well for Cassandra. She earned an undergraduate degree in History from the University of Minnesota. Renting out her house for a year, she went to England and got a Master's degree. Then she went to St. Catherine's for another Master's degree in library science. She was ready to find work she loved.
But by the time she finished her studies, she had become sick, making work difficult. Also, because she had a tenant, her home was routinely inspected to make sure it was up to code. Just as things were getting hard with her health and work, an inspector found several changes she had to make.
"It felt like the straw that broke the camel's back," Cassandra says. "At that point in time I just did not have any financial or mental resources to deal with anything."
Luckily, the inspector gave Cassandra some time to get the work done. And they gave her a list of resources to check out. She called everyone on the list, and Habitat's A Brush with Kindness home repair program was the only one that could help.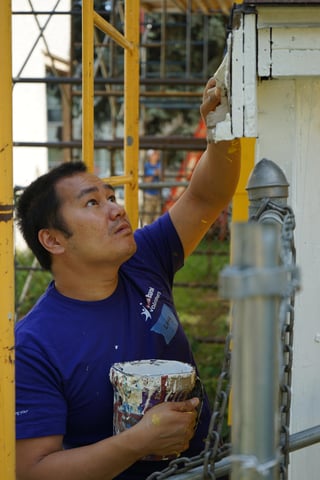 US Bank, which has been an A Brush with Kindness program sponsor since 2010, sent volunteers to replace chipping lead paint. They also raised her stair railing eight inches to get it up to code. The housing inspector suggested ripping it out and installing a wrought-iron railing. But the railing was an original part of her beautiful, old home, and Cassandra hoped to maintain its character as much as possible. Volunteers were able to preserve the existing railing by raising it up and replacing a missing spindle.
"It looks like it was meant to be that way," Cassandra says. "It just looks flawless. I was able to meet code, but retain the historic nature of my home and was able to keep my house looking beautiful the way I wanted it to."
Some projects that weren't even on Cassandra's top priorities ended up being the most helpful.
"All I was thinking about is getting everything up to code so it can pass," Cassandra says. "I wasn't even thinking about the squirrels!"
Squirrels had found their way into her attic. A friend had tried everything they could think of to get rid of them—patching up holes, pulling out nests, using ammonia vapor in the attic—but nothing seemed to work. What's more, squirrels were in the attics of the two homes on either side of Cassandra's.
"The volunteers managed to banish the squirrels, which is just amazing!"
And Cassandra's next-door neighbors, seeing the progress on Cassandra's home, took steps to banish their squirrels, too.
"Because A Brush with Kindness did this, we gained ground in all three homes," Cassandra says. "Now none of the homes are having problems with squirrels."
To cap it off, volunteers painted Cassandra's home a vivid, inviting yellow—a perfect representation of Cassandra's kind personality.
"It's such a source of pride for me! I'm really excited. I want to do more gardening next year, hopefully, and turn it into a showpiece. The grass looks so green next to the yellow—it makes the grass pop. It's bright and almost fairytale-ish, like from a storybook."
Her neighbors love it, and are considering painting their own homes in bright colors, giving this tight-knit block even more character.
Cassandra wants the volunteers to know how much she appreciates them. Things are getting better for her. She's back to work, and her health is improving.
Cassandra's story is a prime example of how circumstances outside of our control can threaten what we once thought was stable, like a home. She says it best:
All it takes is one or two catastrophes and you can be homeless. It's amazing how quickly that can happen. Think if everyone who fell on hard times raced to the worse possible outcome. It would be a lot harder for society. It makes me glad that organizations like Habitat for Humanity exist. I'm still getting back up on my feet one step at a time—but once I'm able to I'll want to donate to Habitat for Humanity to make the circle whole.
Now, in the mornings, the early sun lights up Cassandra's home and it seems to glow. In a neighbor's yard, healthy chickens greet the day. Kids get ready for school. It's a beautiful community, and everyone's glad that Cassandra's still part of it.