For a nonprofit innovation can be tricky. Unbridled goodwill can result in ineffective mission creep if you're not careful. But nonprofits that don't innovate, just like businesses that don't, run the risk of becoming obsolete.
Twin Cities Habitat has undergone its largest innovation to date and now has the capacity to more than double the number of homebuyers we can partner with in the years ahead. This opportunity is the result of a groundbreaking partnership with Bremer Bank that combines philanthropy with community-focused banking. Hopefully it can become a model that other Habitat affiliates can replicate in cities around the country in the future. Habitat affiliates in Chicago have already formed a similar partnership.
This spirit of innovation is rooted in Twin Cities Habitat's DNA and is only possible because of the tremendous community support we receive from volunteers, donors, sponsors, and the families we partner with.
Back in 1998, we created the A Brush with Kindness (ABWK) program, where volunteers helped low-income homeowners with critical paint and repair work. This approach was a first for a Habitat affiliates. But it quickly proved effective for stabilizing individual homeowners and entire neighborhoods.
Good ideas spread fast and it wasn't long before Habitat affiliates around the country had replicated ABWK programs in their cities. Today, the number of paint and repair projects completed by Habitat nationwide is greater than the number of new Habitat homebuyers each year.
In the Twin Cities, more than 1,800 projects have been completed. This scale is thanks to long-term supporters like U.S. Bank, which sponsors several ABWK projects each summer.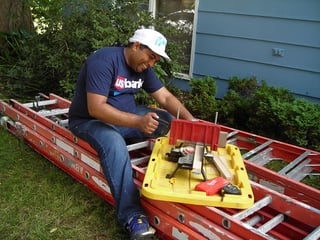 "U.S. Bank is proud to partner with Habitat for Humanity's, "A Brush with Kindness" program," says Jennifer Brajdich, as Assistant Vice President at U.S. Bank. "Our employees strive to give back to the communities we serve every day, and A Brush with Kindness lets us be directly involved in projects that put people first. We look forward to serving our community with Habitat for Humanity for years to come."
Thank you to all the sponsors who support Twin Cities Habitat's mission to eliminate poverty housing in our community. You give us the power to be innovative and think big.