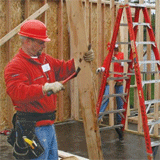 Not even a broken neck from flipping his bike could keep longtime Habitat construction volunteer John Hackley away from the work site. Wearing a halo collar, Hackley continued to participate weekly at Twin Cities Habitat for Humanity's (TCHFH) Woodbury site.

"Although I really couldn't do too much, I just couldn't stay away," he said. "Being bed ridden for several weeks really made me miss the building experience." An added plus for Hackley was the chronic pain he felt from the injury became less and less noticeable when he started volunteering once again. He was also able to sleep better at night due to the increase in activity.
After his retirement, Hackley joined the Dakota Crew of volunteers to stay active. "I look forward every week to my volunteer work," said Hackley. "I hope that Habitat construction staff can keep me busy building homes for another 10 to 15 years."
Whether it's helping with construction, office support, family services or event planning TCHFH strives to create high quality volunteer experiences for all members of the community. Regardless of what area volunteers chose to work in, their role is essential to achieving the mission of providing opportunities for families in need to have decent and affordable places to call home.
Volunteerism offers health and social benefits
Not only do volunteers gain the personal satisfaction of helping someone in need, they also reap a number of the health benefits associated with volunteering. Studies from research institutes at Johns Hopkins, the University of Michigan and the Retirement Research Foundation have shown that volunteering can have the following positive effects on health:
Enhanced immune system response
Increased self-esteem
Lessening the negative impacts of stress
Better sleep
Decrease in heart rate and blood pressure
Quicker surgery recovery time
Decrease chronic pain
Weight loss
Social Support Network
Additional research has shown that older adults can also benefit particularly from the enhanced social support networks that many volunteer opportunities provide. Such benefits include increased self confidence, a sense of community inclusion, enhanced interpersonal ties, and a positive feeling of being involved in fulfilling activities.
Construction volunteer Ron Kuhn has been a part of the Bud's Bunch regular crew for two years working once a week year-round. Being a member of the Holy Hammers, which serves as a sponsor to many Habitat on builds, gave him the idea of getting involved on another level. A retired chemical engineer formerly of Ecolab, Kuhn wanted a way to give back to the community. Being part of the building process as a volunteer has enabled Kuhn to stay healthy, keep his mind sharp through active engagement and develop relationships.
"My favorite part of the whole volunteer experience is being able to associate with the homeowners as we build along side them," Kuhn said. "It makes me feel good inside to see them taking pride in their work and know that I have been a part of their Habitat experience."