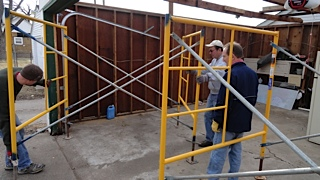 The Willard Hay Neighborhood on the North Side of Minneapolis is full of single-family homes built, for the most part, in the early 20th Century. On May 22, 2011, it was one of the first neighborhoods to be struck by the tornado that ravaged a large part of North Minneapolis. All of the downed trees have been removed from Willard Hay, but blue tarps still cover the roofs of many houses.

The home I visited had sustained major damage. Its elderly occupant is in an assisted living facility while the house is made ready for occupancy. It already has had a new roof installed and work done on its windows. When I visited, volunteers from Twin Cities Habitat's A Brush with Kindness program were working on the garage. Its roof was so badly damaged that it had to be torn off. The tornado had also blown off the garage door. Ironically, the garage door opening mechanism was intact.
Troy, the site supervisor, explained that in this neighborhood, ABWK is going beyond the usual "paint and fix-up" mode into the realm of "critical home repair," where the goal is to improve accessibility and address code violations. He has spent a lot of time assessing neighborhood needs and networking with other agencies working in the area. This day, however, his job is to get trusses onto the roof of this garage.
Three volunteers have reported to site, although Troy was hoping for six. He is confident that they can get the job done today. He explains the job very carefully, especially safety considerations, and gets the crew started setting up scaffolding in the garage.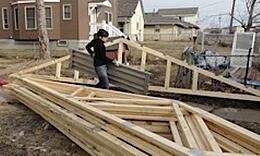 The volunteers include Bill, who is retired from the biostatistics department at the University of Minnesota. Phil retired two years ago as a maintenance electrician - he likes working with ABWK because it continues through the winter. Amanda has built Habitat for Humanity homes from Portland, Maine, to Santa Barbara, Calif. She made her way across the country by bicycle with a group of Habitat for Humanity volunteers, building houses as they traveled. She now works part time for a non-profit agency.
After the trusses are installed, the work will continue with the installation a new garage roof. Stay tuned for more updates on ABWK's work in North Minneapolis.

Have you volunteered with our ABWK program? Tell us about your experience by leaving a comment below!
Lenore Harmon, TCHFH volunteer and Guest Blogger