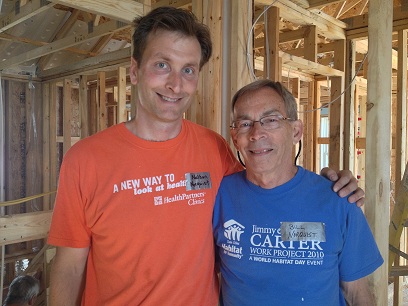 Bill Norquist has been volunteering with Twin Cities Habitat since 1989. He can do just about every part of the home building process, but he really enjoys installing trim. "I like that it doesn't get covered up and you can see the results of your work," he says. That's a humble approach to taking pride in your work.
So why does Bill keep giving time (and money) to Twin Cities Habitat year after year? Bill says that's easy – it's the kids. He used to serve as a volunteer on the family selection committee. He was part of the group that picked which families would have the opportunity to buy a Habitat home. Reading about the low-income families who were working hard just to scrape by, he noticed how often they were forced to move from one place to another. "The kids are the victims," says Bill. "They're not getting the consistent education that they need so much when they're moving from school to school each year."
After Bill retired, he joined the North Central Regular Crew of Habitat volunteers. Now he volunteers with Site Supervisor Lynda Bouley almost every week. Their crew works well together and gets a lot done. Bill continues to support Twin Cities Habitat in part because he sees it working for families. A few years back he got a letter from a homebuyer whose house he'd help build more than twenty years ago. In the letter she wrote how grateful she was that her kids had the chance to grow up one place – one of them even went on to college.
Bill was recently volunteering on a Twin Cities Habitat home in Crystal alongside his son who is a doctor at HealthPartners. The woman buying the home they were working on is a mother of four who works full-time for the National Guard. She already has her college degree, so she plans to save her GI Bill money for one of her kids can use for college. She shares Bill's outlook when it comes to planning for the future: "It's the things that are important to you that you have to make sure are taken care of." That's why Bill and his wife worked with their financial planner to establish a plan to donate to Twin Cities Habitat after they're gone. They set it up so their 401K feeds into an insurance policy that'll go to several charities they support – including Twin Cities Habitat – after both of them pass away.
It's amazing to think of all the lives Bill has helped improve by volunteering with Twin Cities Habitat over the past 24 years. It's just as impressive to know that he'll continue helping families even after he's gone. Fortunately for Lynda Bouley and all the North Central Regular Crew members, it looks like Bill has plenty of good years left to install a great deal of trim.