On August 17, in the midst of political campaigns, awareness groups and business banners, Twin Cities Habitat – Youth United launched their float for the Unify University Parade.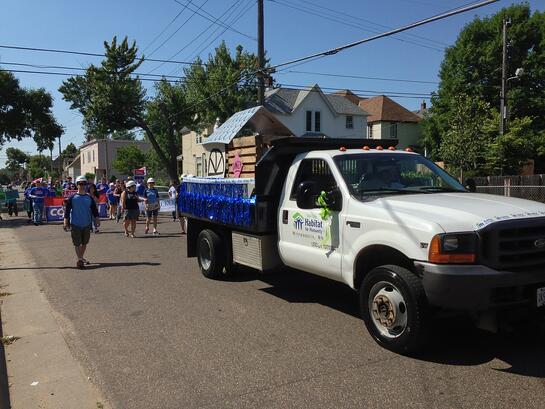 Various historic and racial differences segregate this diverse neighborhood and the Unify University effort stems from the need to reconnect the multicultural community of St. Paul with one another.
Many groups/businesses took the opportunity to promote themselves and their organizations at the parade. Habitat and Youth United also used this chance to reestablish a positive and friendly relationship with and throughout this community in addition to their home building goals.
The parade followed an entourage of fire trucks and police cars through University Ave then headed toward various side streets where families poked their heads outside to see the unusual spectacle. Everything granted, Habitat's float definitely wasn't the flashiest sight, but it did turn heads.
Around 10 members and friends of Habitat for Humanity were able to attend the escorted parade, but despite the numbers, morale was high and everyone was in good spirits, fueled by the neighborhood's enthusiasm and an unexpected team of drummers that followed the parade's attendees.
If this seems interesting, or if you missed the opportunity to attend this parade, do not despair! Youth United's float will make another run at the Minnesota State Fair on Labor Day (September 2nd, the last day of the fair) so make sure you sign up and attend! Complimentary tickets will be available if you register early.