A lot! After opening our doors with a whole new look and new hours earlier this year, we're at it again. This time, we've added two new iPad point of sale systems, launched our new ReStore Hot Deals emails, and we've even added a few new faces to our team!

More and more people are shopping at the ReStore to find great deals on materials donated from individuals, building supply stores, contractors, demolition crews and various businesses. New inventory is arriving daily, and you can save 50-75% off retail prices. We now have two iPad checkout stations to better serve our customers and make your deal-seeking experience even faster and easier!
In addition to our low prices, shoppers that are subscribed to our Hot Deals emails receive the first look at our additional markdowns on great items, and partnerships with brands like Toro help to ensure we always have a mix of new and used products in-store for our customers to purchase. Not subscribed to our Hot Deals newsletter? Sign up now to receive our next email!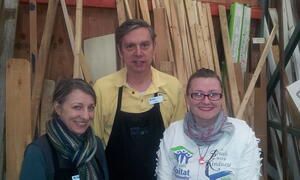 As the numbers of donations and shoppers continue to grow, so does the ReStore staff! In the last few months we've added three new team members to assist you with making donations and purchasing products. Marilyn Paulos is our new Donations Coordinator, assisting with the scheduling of donation pick-ups and in-kind donations from the surrounding community. Alicia Weagel and Bill Sevlie are our new Sales Associates, and you will likely see them at the register or as you shop around the store. The next time you visit the ReStore be sure to say hello and welcome the new ReStore staff!
Finally, we wanted to thank all those who have made donations to our store within the past year. Because of your donations and patronage, the ReStore will fully fund a Twin Cities Habitat home in 2014. Thank you for your continued support! Remember, any items that are donated or dropped off before January 1, 2014 are tax deductible. You'll also be keeping items out of landfills and helping to build more homes for deserving families.