With stay-at-home orders in place and changing business practices, many Minnesotans have questions about what buying a home looks like during COVID-19.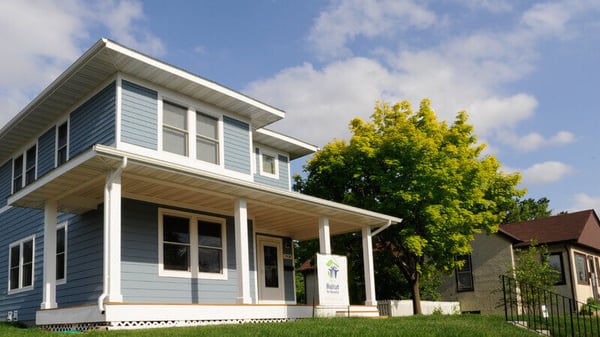 Under Governor Tim Walz's Executive Order 2020, issued March 25, real estate is considered a "Critical Sector" that will continue to operate during the peacetime emergency, as long as workers comply with COVID-19 guidelines. This means that those who work in real estate, including agents, inspectors, appraisers, and tittle servicers, are continuing to assist clients during this time.
However, given that much of the homebuying process involves face-to-face interactions, real estate practices are now guided by social distancing. Since social distancing certainly alters the homebuying process, here are some things homebuyers should know:
Open houses have been halted
In order to practice good social distancing and comply with COVID-19 guidelines, REALTORS®have been advised to suspend open houses until further notice.
For now, most realtors are replacing open houses with virtual tours on their websites or via Facebook Live, Zoom, and other video platforms.
Virtual tours are encouraged
Realtors are encouraging homebuyers to view virtual tours before they consider scheduling a private showing. For this reason, virtual tours are now better than ever.
Online tours are now more in-depth and not only show the inside and outside of a home, but also its neighborhood and surrounding areas.
Many realtors are also offering 3D virtual tours which allow buyers to see a room from different angles.
Realtors are following COVID-19 guidelines during private showings
In order to comply with COVID-19 guidelines, realtors are adopting certain precautions and policies during private showings.
Before the showing
Realtors are asking homebuyers to only schedule showings if they are serious about a property.
Most realtors have also been asked to drive separately from homebuyers, meet directly at the home, and practice social distancing. This means standing 6-feet apart from your realtor and not shaking hands.
If you're feeling sick before a showing, you should let your realtor know as soon as possible and plan to reschedule.
During the showing
During showings, most realtors are allowing only one person in the home at a time. They have also been asked to provide hand sanitizer and disposable gloves, masks, and foot-covers.
In order to prevent homebuyers from having any physical contact with the home, realtors are turning on lights and opening doors before showings.
Homebuyers are also being asked to walk through homes with hands in pockets and avoid touching any surfaces.
You are responsible for your own social distancing
While realtors, guided by the state and national associations, are taking all necessary precautions to keep you safe, you are still responsible for your own social distancing.
Remember to set your own boundaries and communicate these to your realtor before scheduling a private showing.
Other parts of the homebuying process are being done electronically
Almost all other parts of the homebuying process are being done electronically. Homebuyers can expect pre-approvals, loan applications, disclosures, and even purchase agreements to be available online.
Closings may look different depending on the closing company
Some closing companies are conducting closings remotely while others are still doing them in person.
Companies conducting closings in person are asking buyers and sellers to be in two separate rooms, or at least spaced six-feet apart.
A COVID-19 addendum can now be added to purchase agreements
The Minnesota Association of Realtors has developed an addendum to purchase agreements in order to protect all parties during COVID-19.
The addendum extends the deadlines of the purchase agreement in the case that COVID-19 related events prevent either of the parties from committing to the original terms.
What Habitat homebuyers should know
Right now, all of our operations, are being done electronically. However, closings are still done at our title company. For more information, please visit our Buy with Habitat webpage and check out our First-Time-Homebuyer Guide.
As always, Habitat is here to support you. Find our full list of resources on our COVID-19 response webpage.