"Who is a hero?"
Sue Haigh, President and CEO of Twin Cities Habitat for Humanity (TCHFH), asked that question at a recent gathering of 100 of the Habitat for Humanity Housing Hero advocates. She told the group, "a hero is a person who helps others by doing something important."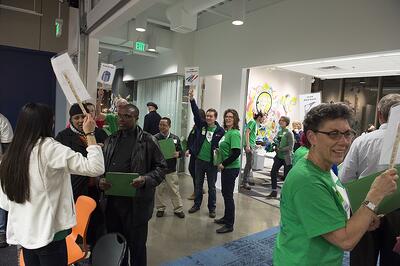 In the case of Habitat's green-shirted Housing Heroes, that important thing can be as simple as making a phone call, writing a letter, or visiting the Capitol with the goal of persuading a lawmaker to prioritize good housing solutions for Minnesota. You can do this right now by signing Habitat's housing petition for the 2015 legislature.
This is an interesting moment here in the Land of 10,000 Lakes. The latest budget forecast shows we have a significant surplus from tax revenues ($1.87B). The Homes for All coalition (a collection of 150+ Minnesota organizations interested in solving our housing challenges) is excited to point out that this is a wonderful opportunity for the state to make wise investments that could have huge returns in the future.
Getting that message to lawmakers was the focus of the Habitat OFF the Hill event, where Haigh raised the question of who a hero is. TCHFH organizes a state advocacy day each spring to draw attention to the need for more access to affordable homes and housing in Minnesota.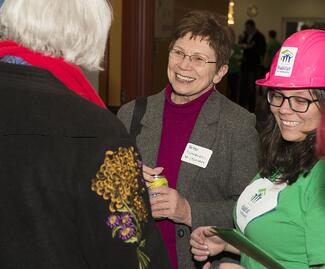 Darielle Dannon, one of the co-chairs of Homes for All, told the Housing Hero crowd that Florida did the math and figured out that it costs state taxpayers there $31,000 a year to take care of someone who is homeless, versus $10,000 a year to help house them in supportive housing. These hard numbers are changing how Florida is investing its resources.
Rebecca Lucero, who helps lead advocacy work at TCHFH, is quick to make it clear that housing isn't a partisan issue; housing is an everybody issue. She threw big kudos to Republican Representative Dave Baker from Wilmar for authoring the House version of the funding bill that Homes for All is pushing for. Representative Alice Hausman, a Democrat who represents St. Paul, is also signed onto this bill, and said it's crucial for lawmakers to hear from their constituents on these bills. Minnesota has over 14,000 people experiencing homelessness on any given night. This is both a moral tragedy for a state with such amazing resources and a huge waste of money.
That led to these big takeaways from Habitat OFF the Hill.
Voices matter and contacting your legislator is an empowering activity that anyone is capable of doing. Sign Habitat's housing petition for the 2015 legislature.
The Homes for All "ask" is that legislators increase funding for stable affordable housing by $39M this year.
Showing up at the Capitol can mean the difference. In April, Twin Cities Habitat staff will be leading anyone who wants to be a Housing Hero to the Capitol to meet face-to-face with their legislators. We will give you training and help to make sure it's a great experience. You can sign up by calling Rachel at 612-305-7154.
Representative Hausman talked about the "sea of green shirts" in the gallery at 2:30 in the morning last year when the bonding bill was being debated. The presence of those Housing Heroes in their green shirts, and the many meetings those volunteers had had with legislators in the preceding months, directly led to the passage of $100M in bonding for affordable housing projects.
Haigh pointed out that that $100M was then leveraged to pull in $234M in private investment to create or preserve more than 6,400 affordable housing units across the state. This is the kind of forward-thinking policy that good lawmakers don't get enough credit for (so thanks again!). The money is giving an immediate jolt to Minnesota's economy because construction workers across the state are working on these buildings right now. Then, even better, the economic benefits of safe, decent, affordable housing units will payoff for years to come in the form of decreased spending on health care, education, government assistance, and the prison system.
Minnesota is a state of smart people and this is a problem that we can solve. But it will take many people speaking in one voice. This sounds like a job for the HOUSING HEROES!