When you become a Habitat Housing Hero, your voice helps shape housing decisions in our community. Through your advocacy, you can multiply your positive impact on the Twin Cities. The latest evidence of Housing Heroes' impact is seen in the 2017 budget recently approved by the City of Minneapolis.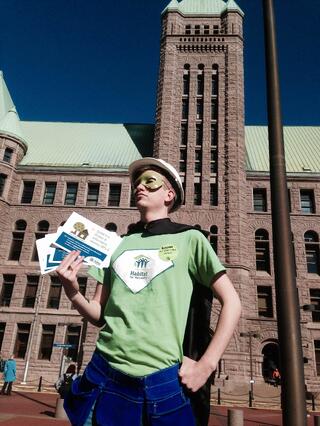 The Minneapolis City Council approved investing $14.5 million into affordable housing development, including investments in the Affordable Housing Trust Fund, and initiatives for Family Housing, Naturally Occurring Affordable Housing (NOAH), and Infill Housing. These investments will help preserve and develop affordable housing throughout the city, leveraging other public and private funds that support healthy and vibrant communities.
If you live or work in Minneapolis, please take a moment to thank the Mayor and City Council Members for investing in affordable housing in the 2017 budget. You can find out who represents you on the council here. Make sure to include your name and address in your email or phone call!
This most recent budget builds upon previous investments to develop affordable housing in Minneapolis, but additional strategies will be needed in the future (a recent report from the Minnesota Housing Partnership shows just how quickly affordable housing options are disappearing across the Twin Cities).
From working to end homelessness, to investing in affordable rental and homeownership opportunities, Minneapolis will thrive with sound housing policies and smart investments. It's critical that our leaders understand that putting money towards the places we call home creates positive ripples in so many ways (better outcomes in schools, healthier families, safer neighborhoods, stronger economic prospects, etc.). The returns on investments in housing are tremendous.
The next challenge for Housing Heroes to take up will be bringing this message to lawmakers at the State Capitol. Twin Cities Habitat is proud to participate in the Homes for All coalition. Please join us in this work.
Thank you for everything you do to support affordable housing in your community! Together we build a stronger and more affordable Minneapolis—and Minnesota.