The importance of addressing our housing affordability crisis is driven home each year when so many corporate leaders volunteer to be part of Twin Cities Habitat's annual CEO Build. The 2020 CEO Build (our 19th annual) brought 24 top executives together, socially distanced, to build at four separate construction sites at two locations in St. Paul.
Doug Baker, CEO of Ecolab, and Joan Gabel, President of the University of Minnesota, served as Co-Chairs for the event. Joan spoke about the impact stable housing has in terms of improving educational outcomes. Doug welcomed everyone to site by saying how a day volunteering to build homes is far better than a day sitting through Zoom meetings. He also expressed how important affordable housing is for the Twin Cities in sustaining its economic vitality.
Chris Coleman, President and CEO of Twin Cities Habitat, explained how the organization is responding to the twin pandemics of COVID-19 and a reckoning over racial justice. "We've created a new At Home Fund to stabilize low-income families now and continue to create opportunities for the those who have historically been denied access to homeownership."
The CEOs helped raise walls and hang drywall. When the homes are finished, families who have completed the Homeownership Program will buy them with affordable mortgages.
Check out a few highlights from the event: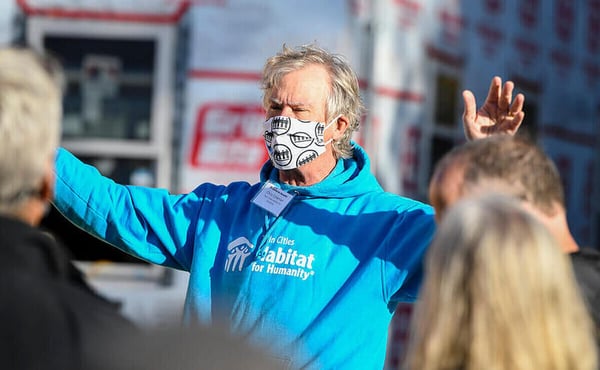 Chris welcomed the CEOs and thanked them for their commitment to our mission.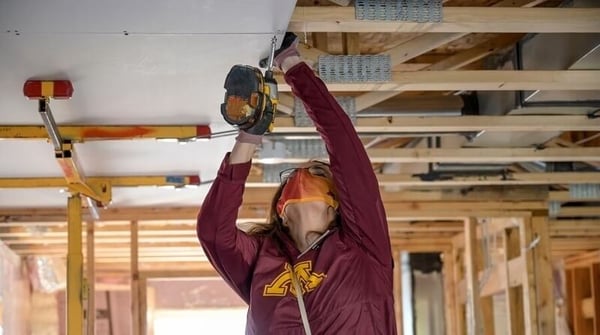 Joan Gabel, President of the University of Minnesota, helped install ceiling drywall (which is a great shoulder workout). She served as Co-Chair for CEO Build 2020.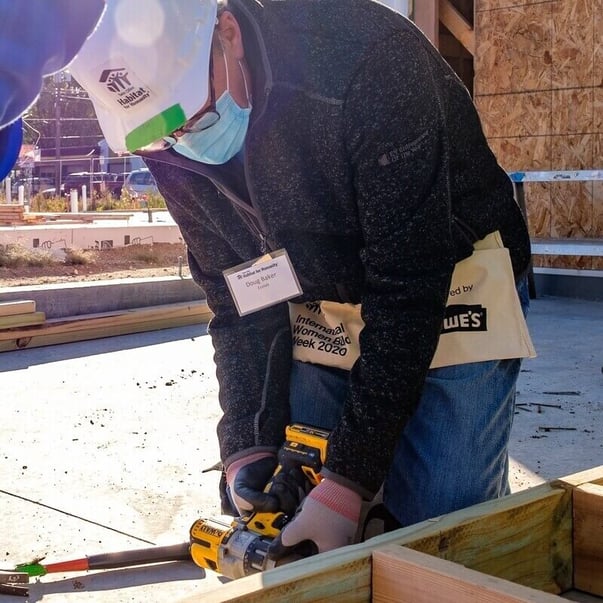 Doug Baker, CEO of Ecolab and the other Co-Chair for CEO Build 2020, helped make and raise stud walls.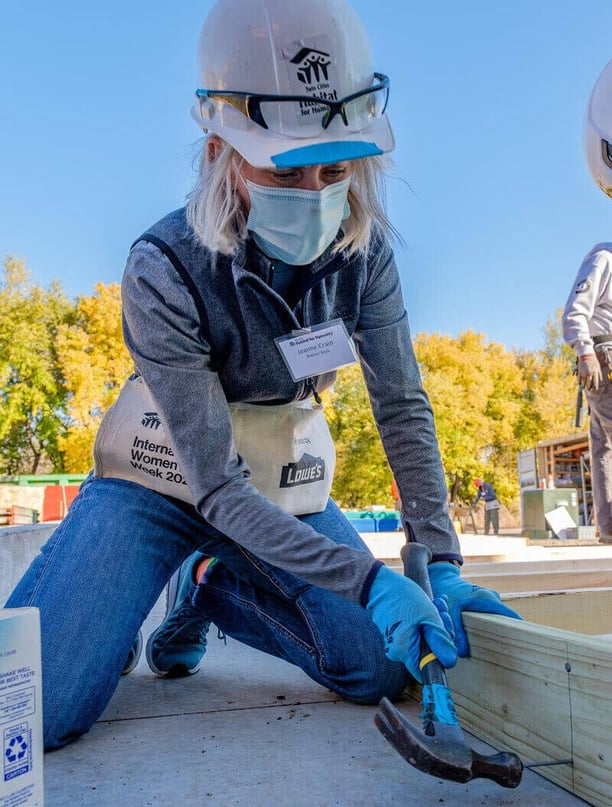 Jeanne Crain, CEO of Bremer Bank, is handy with a hammer. She was instrumental in creating the largest mortgage partnership in Habitat history between Bremer and Twin Cities Habitat in 2017 - helping double the number of families we can support in becoming first-time homeowners.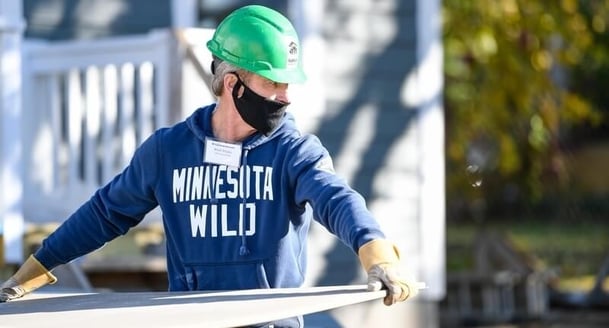 Matt Majka, President and Alternate Governor of the Minnesota Wild, shows he knows drywall sheets as well as ice and balance sheets.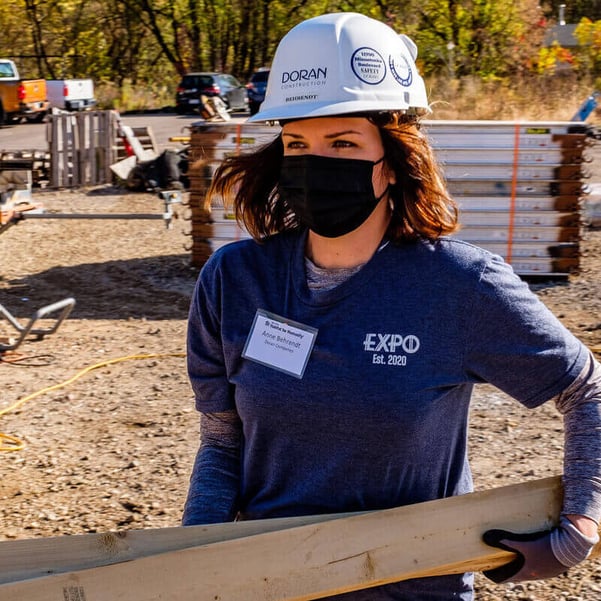 Anne Behrendt, CEO and President of Doran Companies, shows off her board experience.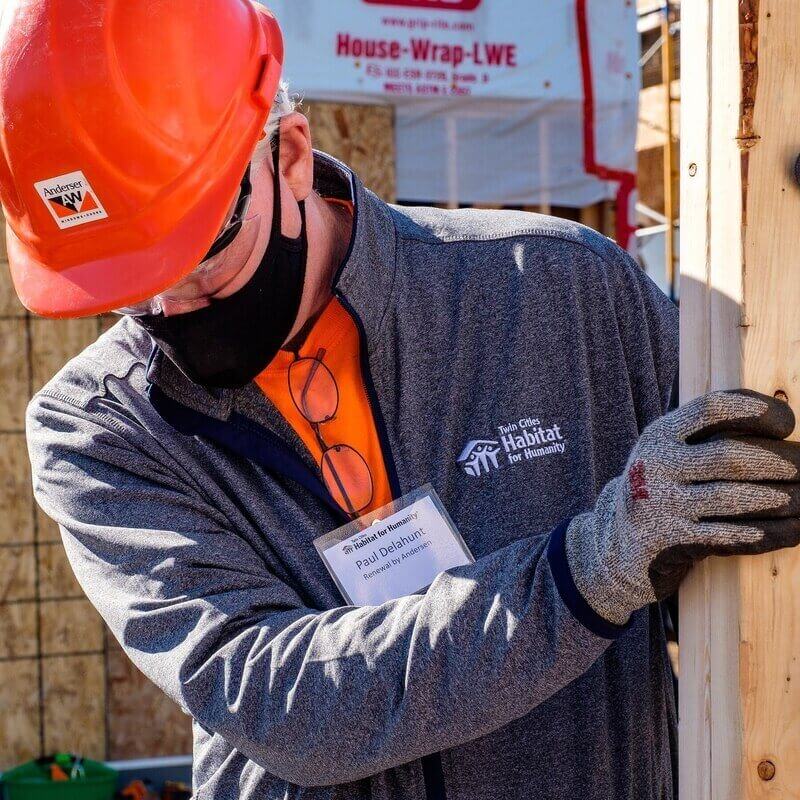 Paul Delahunt, President of Renewal by Andersen, is a Twin Cities Habitat Board Member and valuable volunteer on any worksite.
Thank you to all the groups represented at the 2020 CEO Build!
Bremer Bank

CHS, Inc.

Doran Companies

Ecolab

Greater MSP

Lund Food Holdings

Lyman Companies

M.A. Mortenson Company

Minneapolis Regional Chamber of Commerce

Minnesota Wild

Padilla

PCL Construction

Polaris

Ready Credit Corporation

Renewal by Andersen

Dorsey & Whitney LLP

Ryan Companies

Securian Financial

UCare

University of Minnesota

Uponor

Wells Fargo