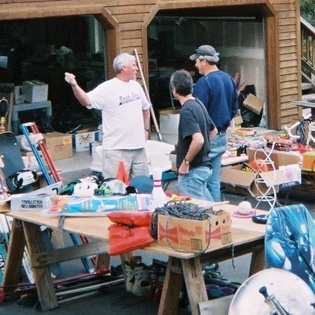 Dennis knew he wanted to travel more, but he had a problem. He had a lifetime's accumulation of furniture, tools, artwork and memorabilia that he'd either have to sell or put in storage. Neither option appealed to him.
Selling it meant having to sort everything, price it, advertise it, and deal with unknown buyers or agents. Dennis wasn't comfortable with that.
Storing it meant paying $700 per month just to postpone the day when he'd have to dispose of it all anyway. That felt like a waste of money.
He talked to his daughter, but she didn't want most of it either. She suggested he contact the Twin Cities Habitat for Humanity ReStore. He did, and liked what he learned.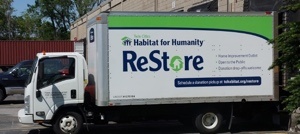 First, since he had so much to give, the ReStore told him they would send a truck and driver to pick everything up. Dennis liked the simplicity.
Second, he learned that the donation would likely give him a tax deduction. Dennis figured that between the savings on storage, and the tax deduction, he would be able to extend the RV trip he was planning to 18 months. He really liked that. "I might even get to try fly fishing in a few rivers. I never thought I'd get to DO THAT," he said. "I don't know if I'll catch anything, but I like getting a line wet."
Third, and most importantly, he liked the idea that all the proceeds from the sale of his donated goods would go to help more families be able to buy Habitat homes.
When Don, the ReStore donation truck driver, showed up at Dennis' house, he was overwhelmed by how much Dennis was donating (3 truckloads). He was also surprised by the quality and variety of what was being given. As Don and Dennis loaded the truck, Dennis shared some of the stories behind his possessions.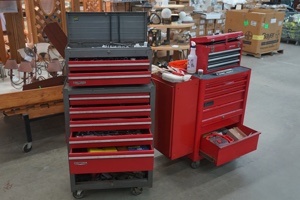 "I'd worked on airplanes in the Air Force," Dennis said as they loaded two large rolling tool chests onto the truck. "When I got out, I got certified as an AP mechanic (airframe and power plant)." He opened drawers and showed Don a huge assortment of professional mechanics tools that looked almost new. "I always figured it was worth it to have the best quality tools I could buy."
A little later they loaded a professional grade Delta radial arm saw, drill press, planer, and table saw. "I got into woodworking when I decided to build a triple decker deck." The equipment looked almost new. "I built the deck and built a few pieces of furniture."
Don began getting the idea of how many different things Dennis had done in his life when the pair loaded up a drafting table and design tools. "I worked for Northwestern Bell for over 20 years," Dennis said, "So I got into designing my own electronic equipment."
"I always bought tools that could work with wood, metal, or anything else." He pointed toward a kayak he had modified to be a high-tech fishing boat. "With the right tools, you can make anything."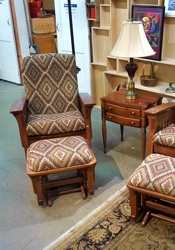 A couple of truckloads later, the two men loaded most of Dennis' furniture and artwork. Each piece had a story behind it. Don found every story interesting, and many of them surprising. Dennis caught himself. "You know, I've been telling you all these stories and realized most of them won't mean anything to anybody else but me." He smiled. "That's okay though. That's the way it's supposed to be. I've got my memories and now it's time for somebody else to get some value from all this stuff."
One memory caused Dennis to pause and reflect. "My family grew up poor, but I did have one rich aunt and uncle," he said. "When I was a kid we went on a visit to their house and I remember looking up at this really fancy crystal chandelier. I pointed to it and announced, 'When I'm grown up, I'm going to have one of those.' My Mom said she didn't think so."
He opened a box and pulled the bubble wrap back from a chandelier. "About ten or fifteen years ago I went into a shop and saw this hanging from the ceiling. I liked it so I bought it, took it home and installed it. A couple of years later, I was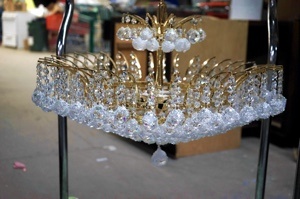 looking at it hanging there and realized it was the exact same chandelier my aunt and uncle had." His eyes twinkled when he added, "That's when I knew I'd really made it!" He added, "I've enjoyed all my stuff, but now it's time to let it go and let someone else enjoy it."
By the time everything is priced and totaled at the ReStore, Dennis' donation will likely be the largest individual gift in the Twin Cities Habitat ReStore's history. He appreciates how easy the ReStore team made it for him to donate. He's glad his tools and furniture will get new lives in other people's homes. And he's happy he can help other families buy homes. "Everybody deserves a home," he said. "It's nice to give a family a hand buying one."
Dennis was very shy about sharing his story. "I didn't do it for any recognition," he said. "But if it inspires other people to do the same thing, then it was worth it."
If you are trying to clear your home of gently used furniture, appliances, tools, or building materials, consider donating it to the ReStore.
If you have an estate you need to process, donating it to the ReStore can save you a lot of headaches and stress.
"Trying to clear out a lifetime's worth of stuff is a lot of work," Dennis said. "But working with the ReStore was easy, and it's good to know it's all going to a good cause."
Contact the ReStore to learn more about how they can help.