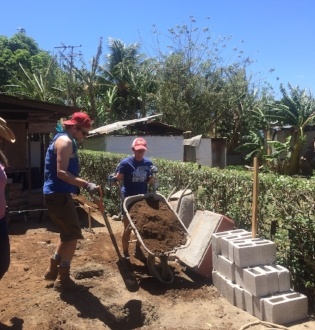 March 7, 2016
Guest Blog by Liz F.a
Global Village Trip participant
Hello from Day 2 of the Global Village2017 Costa Rica Build!
Today was a great day at the coco beach site, we spent a lot of time in the sun, mixing concrete, and standing up posts. Our home will be going to a family with a 4 year old boy and another baby due in May. We have been fortunate to be able to spend a lot of time with them over the past 2 days. The first day the little boy was a bit unsure of this big group of Americans. But today he definitely warmed up to us. We spent the day playing hide and seek, playing with trucks, playing catch with beads, and even some tag!
Towards the end of the day, he came over to the concrete pile to investigate. We showed him how to take the trowel and put concrete in the wheelbarrow. He loved being able to help and was so proud of himself when all these adults started cheering for him!
This interaction just reminded me of why we are here, because of the work that happens over the next 2 weeks this family will have a home! I am honored to be a small part of that project and I can't wait to see the final product!
Time to head off to bed in order to lay a floor tomorrow!