Guest Blog by Nate M. and Rachel W.
Global Village trip participants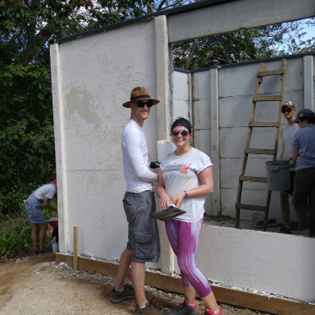 Week 2 has begun!! We started the day early at the hotel restaurant with eggs, fruit, toast, and the strange appearance of bologna.
Our first day on the Coco build site was HOT! It was about 94 degrees with random bouts of breeze. We worked on plastering the exterior of the house, and also filled in corners on some of the interior rooms. Highlights include Mario's amazing food (pot roast & potatoes, zucchini with mozzarella & tomato, black beans, rice, and cabbage salad), along with Kirch's sweet sweet jams, and meeting the world's cutest puppy (Snoopy!).
After we finished building for the day, we headed to Ocotal Beach for the necessary ocean refreshment. It was great to get to know the rest of the group, and I think it's safe to say we will all sleep well tonight.