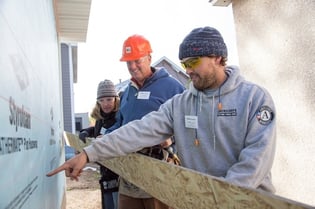 Are you someone who likes to learn new things and doesn't shy away from a challenge? Perhaps you're wanting to give back to your community, stay active, and meet outstanding people, but just don't know how? Well, you're in luck! It just so happens that becoming a Regular Crew volunteer for Twin Cities Habitat for Humanity could be a terrific way for you to satisfy all your social, physical, and altruistic goals.
Wherever you're located, there are many opportunities to get involved with your community. If you're looking to volunteer with Twin Cities Habitat in the west metro, look here.
East Metro Volunteering
In the eastern half of the Twin Cities, there are several Regular Crews looking to add new members. Some crews meet once a month, others once a week, and some multiple times a week. What's great is you can pick the level of commitment that is right for you.
While doing something new may push you out of your comfort zone, don't feel as though you need to know everything about volunteering right away. Maybe you have never built anything before; that's okay. Never used a tool before? You're not the first volunteer to travel that path.
Whatever your skill level, Twin Cities Habitat Site Supervisors will work with you to find the best placement for you at a site. Volunteering is meant to be a friendly, uplifting experience. After all, not only are you doing good for your community, but you are doing a positive thing for yourself as well.
Let's dive into the crews building most often in the eastern half of the Twin Cities.
Homebuilding Regular Crews
Third Act
Founded by former Board Chair Barry Mason, the Third Act was established for post-retirement aged people to become active within their community. Having participated in Global Village trips before, Barry wanted to create something that his community could benefit from. The name Third Act comes from the concept of a three-act play, except here it is applied to the three stages of life. The First Act is the Educational/Personal Growth Act, the Second Act is the Professional Act, and the Third Act is the Post-Professional/Retirement Act.
Barry's goal with Third Act was to provide the opportunity for new retirees to have a schedule and a purpose for their day-to-day life after their careers. This also reduces the social isolation that can be difficult to combat after retirement.
Bud's Bunch
Bud's Bunch is a long-running crew where the members know each other very well. Among this group is Todd Roach. Todd had been volunteering with Habitat for three years before he joined Bud's Bunch.
Upon reflection on the Bunch, Todd shared "The people are great. The mission is great. It's an honorable thing…When you meet the homeowner of the house you're working on, that experience is worth its weight in gold. These homeowners are extraordinary. Their house isn't given to them. They earn it. You have to be a pretty special person to run that gauntlet and put that work in."
While Bud's Bunch is not currently accepting new members, it is one to be on the lookout for when spaces open up.
3Mgives
The 3Mgives regular crew is a very well-organized crew that is regularly our most active! As implied by the name, the 3Mgives crew is coordinated by our amazing partners at 3M. Many of their crew members are retired 3M employees, however they have a very welcoming policy and are open to any interested volunteer that would like to join their ranks. If you have an interest in becoming part of one of our cornerstone crews, 3Mgives may be for you. They volunteer on the east side of the metro, twice a week, all-year round (and even more in the summer). Volunteers are welcome to build once a week, twice a week, or once a month with the 3Mgives crew.
St. Paul Regs
This regular crew is always open to new people, the more the merrier! Established by retired teachers, this group works on build sites throughout St. Paul. If you are looking for a group to help you make new friends, this may be the right fit for you. With regular weekly builds, the group grows close fast.
St. Andrew's
St. Andrew's Church in Mahtomedi has been supporting Twin Cities Habitat's mission for more than 30 years. From filling build sites with congregation members, to donating food for volunteers to eat while building, to even raising their own money to get the necessary construction supplies, they really do it all.
Perhaps you are looking to join a faith group that is rooted in giving back to the community. In that case, St. Andrew's might be a place worth visiting.
Women Build
If you're looking to join a supportive group to learn new skills, Women Build could be an excellent choice for you. Meeting once a week all year round, Women Build meets once per week throughout the year - that's a lot of building!
Women Build is a decades-old tradition at Twin Cities Habitat - building and renovating homes all over the Twin Cities metro area. This group is always looking to add more friendly faces - experienced with tools or not. You are welcome to join by yourself or bring friends to add to the experience.
A Brush with Kindness
One of the most important regular crews of volunteers are the A-Regs who help out on home repair projects for the A Brush with Kindness program. This program helps lower-income homeowners stay in their homes by making critical repairs. This crew works throughout the Twin Cities metro (east and west) and volunteers roughly once a week. They have a big need for anyone with special skills like carpentry, tiling, or concrete.
ReStore
If you're looking to volunteer but building really isn't your thing, you should give ReStore a try. Twin Cities Habitat ReStore is a home improvement outlet where quality new and like-new building, furnishing, and repair materials are sold at discounted prices. Here you can help stock shelves, take inventory of new donations, or even help at the register. Unlike our construction opportunities, ReStore shifts are 3-4 hours long.
If you are a DIYer, like great deals, and enjoy connecting with people, volunteering at the Minneapolis or New Brighton ReStores may be perfect for you.
And that's a wrap! With opportunities sprinkled all throughout the Twin Cities eastern (and western) metro, there are ways for everyone to get involved within our community.