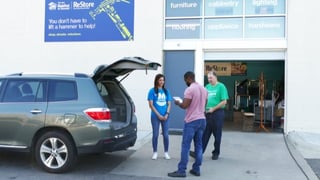 There are many reasons why you should donate to charity. Of course giving back to the community is great – but how does that affect you? Did you know that there are psychological benefits to donating? It's not as earth-shattering as you might think. By doing good you feel good, and when you feel good, you inspire others around you to take positive action in their lives too. Below are five reasons why you should donate to charity – the last one might surprise you!
1. Helps Build Community
By contributing to a cause, you are working towards making the world a better place. The donation of your time, money, or items goes to those who need it most. You can increase your impact by encouraging your friends, family, colleagues, and networks to give as well. Your community is only as strong as the people within it. The more support that can be provided, the better off the community will be.
2. Psychological Benefits
Knowing that your actions directly help others is incredibly gratifying, which can make you feel happier. Sacrificing time and/or money to others can provide you with a feeling of positivity and fulfillment. Research has even shown a direct correlation between making a donation to charity and increased activity in the pleasure centers of your brain!
Did you know giving is also good for your overall health? Donating is associated with these health benefits: lower blood pressure, lower stress levels, lowered feelings of anxiety and depression, and increased self-esteem. Who couldn't benefit from a little health boost?
3. Declutters Your Space
We all have that one closet that we somehow manage to squeeze one more winter jacket, set of bed sheets, or miscellaneous item into. It's on your to-do list to clean out, but the task always gets put on the back burner. Look no further for a reason to declutter your space. Grab a cardboard box and start separating your items. When was the last time you wore or used this item? If it was over one month and the item is not seasonal, maybe it's best to give it a new home.
You can donate many household items to ReStore, a home improvement outlet that accepts small and large donations of new or gently used furniture, appliances, housewares, building materials, and more. Proceeds from the sales of these items help fund Habitat for Humanity's work in your community.
4. Leading by Example
Your own charitable donations inspire those around you to become more active within their community. As a parent, friend, boss, or employee, we all have underlying goals that motivate and drive us. Be a leader and take the first step by donating to charity. You might be surprised how many people follow suit with a similar idea. Be the change you want to see within your community – donating to charity is an excellent way to do just that.
As a team-building activity for friends, families, or coworkers, consider signing up for group volunteering opportunities. Align your values, create new memories, and make an even larger impact on your community.
5. Tax Deductions
Bonus! Did you know that when you donate to a charity, the amount you give is tax-deductible?
Your giving may decrease how much you have to pay in taxes. This can be appealing to both individuals and businesses, as these deductions can be applied to both groups. Corporate giving is another excellent way to give back to your community. A company can deduct up to 10% of its taxable income.
Many companies extend their corporate giving by matching their employees' charitable donations. See if your company matches donations to Twin Cities Habitat or other organizations.
All of these reasons to donate are centered on the idea of creating positive change. Perhaps you'll discover an additional benefit to donating once you give it a try for yourself.