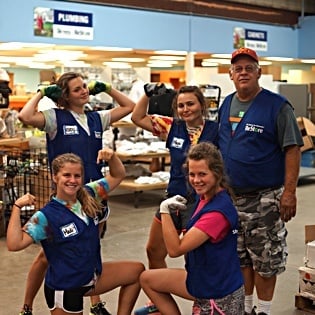 When you visit a Twin Cities Habitat for Humanity home build it's instantly clear how much of an impact volunteers have on our mission. At the Habitat ReStore the impact of volunteers is every bit as important, albeit less obvious. If you ask any volunteer at the ReStore, however, you'll quickly discover they have a sense of purpose, a sense of accomplishment, and usually have more than a little fun.
The ReStore is Habitat's discount home improvement outlet. It was started as a way to raise funds so Habitat can build more houses, and they are on a path this fiscal year to surpass $1 million in sales. As a fundraising outlet, the functions of shopping and donating are pretty obvious, but without the volunteers, the ReStore would have to close its doors.
Volunteers take in the building materials, appliances, cabinets, furniture and other items donated by homeowners and businesses. They sort it all, price it, and get it on the sales floor. They keep it neat and build displays. They help customers find what they're looking for, get it rung up, then help customers load it up.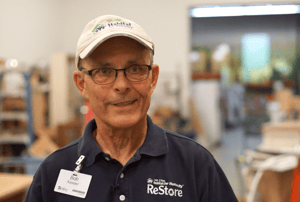 On any given day, you might find a teenaged volunteer working alongside a retiree. You might see Habitat homebuyers fulfilling their sweat equity requirements by helping a ReStore shopper turned volunteer stacking a couple of pallets of donated tile. Or you might find a corporate volunteer being assisted by a person with a physical or developmental disability, as they process unusable donations for recycling. In every one of these instances, you're likely to see a lot of smiles and hear a lot of laughter.
At the end of the day, ReStore volunteers know they've put in a good day's work. They also know they helped build community and had a positive impact in the lives of children and families. Not bad payoffs for a little of their time.
If you've never thought of volunteering at the ReStore, think about it now. If you've thought about, but haven't done it yet, it's time to finally take the step. Watch the video below and learn a little more about what the volunteer experience at the ReStore is like!