Guest Blog by Pam Johnson
Twin Cities Habitat Staff
If you've watched, listened to, or read the news lately, you know that there has been a whirlwind of activity and advocacy at the federal policy level over the past few months:
A major tax reform bill has passed
The federal government temporarily shut down for three days over 2018 budget deliberations
Spirited discussions are center stage as leaders seek agreement on immigration and other important issues prior to signing off on a budget bill
Breaking down the Federal Tax Bill
The $1.5 trillion federal tax bill, formally named the Tax Cuts and Job Act, was signed into law on December 22. This legislation represents the most significant changes to our federal tax code in over 30 years. The corporate tax rate dropped from 35 to 21 percent and the standard deduction (used by two-thirds of U.S. tax filers) doubled. A series of tax credit and policy changes related to housing were also among the many changes that were made.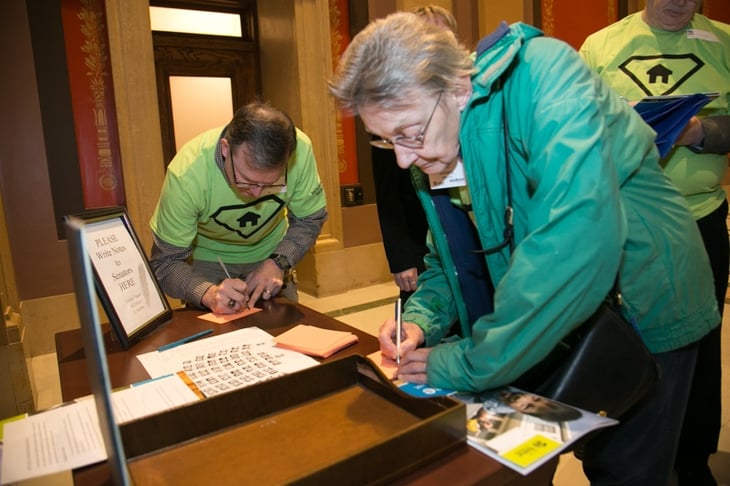 Our Habitat Advocacy team has been engaging with you and with our Minnesota Congressional Members this past year to promote tax changes that would prevent negative impacts on affordable housing, nonprofits, and charitable giving. We brought these messages to Washington DC during our January 2017 Habitat on the Hill conference. We repeated them over the summer and fall during in-district meetings with Congressional members. And we amplified local support through the voices of constituent Habitat Heroes who took action and sent emails and postcards to their Congressional members. Our collective efforts demonstrated to leaders that we are watching closely and stand ready to assist in mitigating any potential negative impacts for Habitat families and our organization.
Due to the Tax Bill's complexity, we are working with our Habitat for Humanity International partners in D.C. to better understand its short and long-term impacts. A few key outcomes include:
New Markets Tax Credit was preserved, directly benefiting Habitat affiliates nationwide.
Low-Income Housing Tax Credit (LIHTC) was preserved, which produces the most new federally-supported affordable housing. The value of both New Market and LIHTC credits will likely drop, however, due to the corporate tax rate reduction.
Private activity bonds (includes housing bonds) were preserved, providing critical financing to over half of all LIHTC developments and homebuyer resources used by Habitat affiliates.
The Mortgage Interest Deduction cap will drop from $1 million to $750,000, and it is unclear how or if this will impact Habitat's existing homeowners.
State and local income and property tax exemption will be limited to $10,000.
The Charitable giving deduction is preserved but undermined by the doubling of the standard deduction. Estimates suggest this could reduce donations by $13 billion/year.
The Johnson Amendment was protected, which prohibits nonprofits and churches from participating in political (but NOT public policy) activities.
We will continue to monitor the impact of the federal tax bill and engage in advocacy actions as needed in the coming months.
The 2018 Federal Budget
Our advocacy efforts over this past year also addressed potential cuts to key funding sources within the 2018 Federal Budget. The Fiscal Year 2018 Federal Budget is on a cycle from October 1, 2017 through September 30, 2018. We initiated education efforts with lawmakers about Habitat priorities during our Washington Hill visits in January 2017. Initially, we sought increases to our federal resources to address the growing demand for affordable homeownership. Federal programs within the Department of Housing & Urban Development (HUD) that support Habitat's rehabilitation and building of homes, land purchase, infrastructure improvements, demolitions, and down payment assistance are:
HOME (Home Investment Partnerships Program),
SHOP (Self-Help Homeownership Opportunity Program),
CDBG (Community Development Block Grant),
and the Corporation for National and Community Services (CNCS) – AmeriCorps Program delivers critical support to our volunteers, homebuyer families, staff, and subcontractors.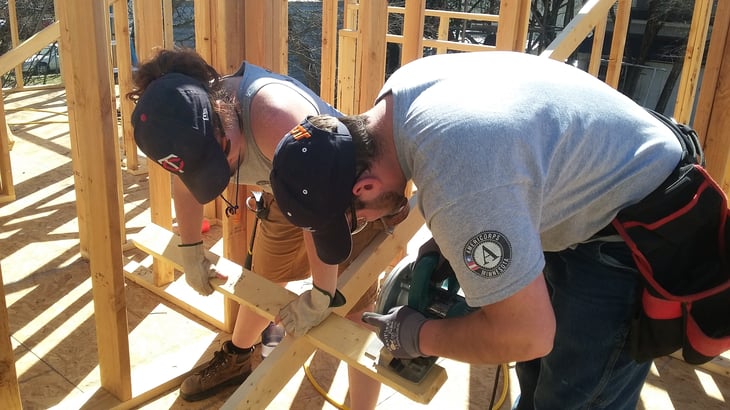 We shifted to a strategy of protecting current 2017 funding levels when all four of these key programs faced complete elimination in the federal budget. Once again, our Habitat Heroes stepped up to help us educate our federal elected leaders about the powerful return on investment achieved through supporting Habitat, through stories about the life-changing impact of Habitat homeownership on ourselves, our neighbors, and our communities.
While the federal fiscal year began on October 1, 2017, lawmakers were unable to negotiate an agreement for overall spending at that time. A budgeting procedure called a Continuing Resolution (CR) was used four separate times since then to keep the current level of funding in place, each time setting a new deadline for final budget passage. The most recent CR expired on January 19 without an agreement to move forward, resulting in a temporary three-day shut-down of the federal government.
Congressional members worked through the weekend to find a pathway forward, despite significant differences on immigration and other policy issues. They agreed to re-open the government with a new February 8 deadline for budget approval. This agreement includes an important six-year funding extension for the Children's Health Insurance Program (CHIP), providing essential health coverage to millions of children and low-income families nationwide—including 125,000 Minnesotans.
What's ahead?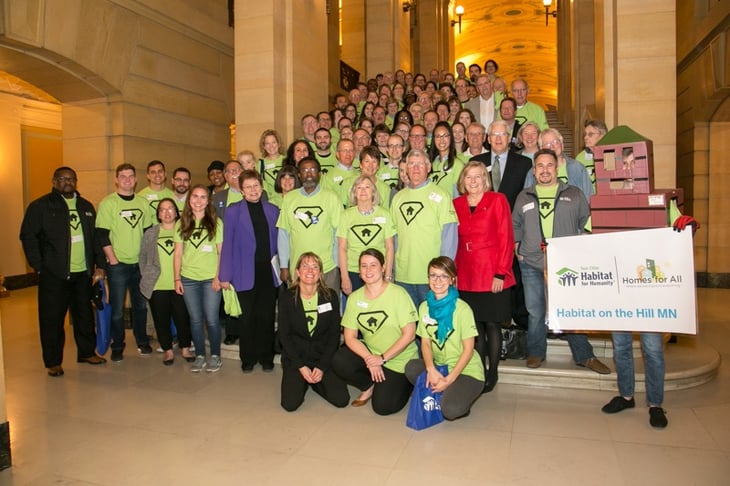 Federal lawmakers have a few more weeks to negotiate agreements on the federal budget and immigration, disaster relief, and lifting mandatory caps on discretionary spending. A team of Minnesota Habitat representatives from the Twin Cities, Rochester, and Winona will meet with our Congressional members in Washington DC February 12-16, during Habitat on the Hill. This gives us an opportunity to advocate for strong support of our affordable housing mission goals. We will bring your stories of hope and resilience as we discuss the impacts of Tax Reform and the Federal Budget.
Stay tuned for DC Trip highlights and remember to Save the Date for Habitat on the Hill MN on April 26.
Thank you for your continued advocacy—it makes a difference!