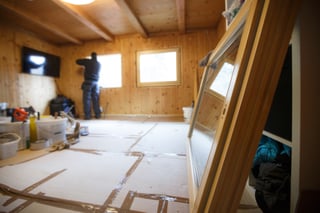 If you're starting your search for a home, and considering buying a home that's in need of renovation, you could be eligible for an FHA 203(k) loan. This type of loan allows you to convert a true fixer-upper into a beautiful home. But is this federally-guaranteed home improvement loan the right option for you?
It definitely has potential, but you should consider the advantages and disadvantages as carefully as the renovation work you're willing to take on.
Here are the FHA 203(k) Loan Basics
The Federal Housing Administration (FHA) created 203(k) loans to help homebuyers pay for a house and its renovations using the funds from one loan package. This loan can be an advantage over taking out two separate loans—one loan for the home purchase and the other to fund the improvements.
FHA 203(k) loans can also be used strictly to pay for renovations if you already own a home. In this case, you would have to convert (refinance) your current loan into an FHA 203(k) loan. Many times, however, there are better loan options when funding home improvement projects, including a home equity line of credit.
The FHA's involvement can be appealing to both the lender and the applicant. Since the FHA guarantees the loan, lenders take on less risk. And because they're taking on less risk, they are often willing to consider a property they otherwise might resist or reject. Loan applicants benefit because they may be able to pay as little as 3.5 percent towards their down payment, similar to other FHA loans.
Now, a Deeper Look into FHA 203(k) Loans
The answers to some of these questions might help you decide whether or not a FHA 203(k) loan is right for you:
Who is eligible?
FHA 203(k) loans are open to owners (meaning, a home's occupants), as well as nonprofit groups. They are not open to investors. Condo and townhouse owners may apply only to pay for interior renovation work.
Who can do the work?
Licensed contractors must carry out all the improvements. It doesn't matter how handy or talented you, your friends, or your family members may be with home improvements, the FHA insists on professional-grade work and requires contractors to complete a good deal of paperwork to prove it.
How long do the contractors have to complete the improvements?
All of the work must be finished within six months. During this time, the money is placed in an escrow account (kept by a third person) and paid to the contractors as they complete the work. In the meantime, and in some situations, the FHA will allow an applicant to borrow extra money to pay for temporary housing.
Assess the Pros
Here are some of the reasons an FHA 203(k) loan may be appealing to you:
A low, 3.5 percent down payment is required.
You make one payment every month (a combination of the mortgage and the improvements). The interest on your loan is tax-deductible like other mortgages.
You can make home improvements right away, even installing appliances or features that may be missing from a house.
In some cases, structural repairs are eligible.
FHA loans are assumable (meaning that if you sell the house, the buyer can simply pick up your payments without having to apply for a new loan).
Assess the Cons
On the other hand, here are some reasons why an FHA 203(k) loan may not be for you:
It is off-limits to investors.
It is available only on a primary residence (where you live or intend to live most of the time).
Licensed contractors must be used (and the FHA screens them carefully and requires them to complete a good amount of paperwork).
Closing an FHA 203(k) loan can take longer than other mortgages (since government paperwork is involved).
FHA requires an upfront Mortgage Insurance Premium, as well as additional mortgage insurance payments each month if your down payment is less than 20 percent of the purchase price.
Some lenders may not be familiar with the FHA 203(k) loan process.
This last point explains why working with an expert FHA 203(k) lender is important: You want someone who can answer your questions, give you the best advice, and close your loan in an efficient, timely manner.
If your evaluation of the pros and cons indicates that the FHA 203(k) loan isn't the right fit for you, then you may be interested in a similar rehab loan product offered by TCHFH Lending Inc. Learn more about the homeownership program offered by Twin Cities Habitat for Humanity and how it can help you find the best financial path to owning your own home.