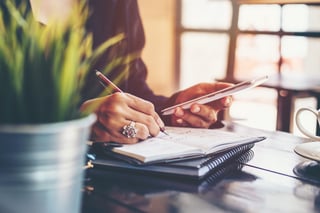 You may have already practiced this skill in your everyday life. Can you think of a time when you were hungry and wanted to go out to eat, but decided to stay in and cook rather than going out to your favorite restaurant?
Separating wants from needs is a skill that will serve you well as you begin looking for your first home. With our suggestions and a little brainstorming, you will be ready to create your first home checklist in no time.
Hear from Adade Amenounve, our Homeownership Development Coordinator, as he lists down some common needs and wants in the home search:
Put Some Thought into Your Needs Versus Wants
Before you start writing your checklist, think about the difference between needs and wants. Your needs are the things you absolutely must have in your first home. For most people, that includes a certain number of bedrooms and bathrooms.
If you're already jumping ahead and thinking about exceptions, you're on the right track. In other words, at this point, you may need three bedrooms — one for you and your spouse and one for each your two children. But if you happen to find a two-bedroom house that has a massive second bedroom and could accommodate two children, you can adjust your list.
Likewise, you may think you need an eat-in kitchen. But a house with an open floor plan and a kitchen that leads directly to a dining room may prompt you to adjust this list, too.
You must start somewhere, so continue listing your needs. Then list your wants or your wish list. Wants are those extra things that would be great to have in your home but aren't necessary, like a front porch.
You should also remember that some of your wants, like a finished basement or wood floors, could be added a year or more after you buy a house.
"You can move into the house with carpet that is acceptable and plan on changing the carpet in 5 years or 3 years once you've saved," says Adade.
Make a List of Your Needs First
You may want a walk-in closet, but do you need one? However, as we said before, you do need a certain number of bedrooms and bathrooms. Start your list by identifying these numbers, then move to other needs you have.
Do you know what your minimum square footage needs are? Great! Write that down, too. It will also be helpful to identify what type of home you want, whether it's a single-family home, townhome, or condo.
Location may also be a need if you're looking to stay within a certain school district or be no further than ten miles away from work. If this is a must for you, make note of it.
Write Down Your Wants and Prioritize
We admit this list is far more enjoyable to create. When you've pictured your first home, what did it include? Was it a beautiful brick home? Did it have an open-concept floorplan? Wood flooring? Kitchen pantry? Make a list of all the things you would love to have in your home but aren't necessarily needs. Then, prioritize them. Are you more interested in having an open-concept floorplan than having wood flooring?
Number your wants with one being your favorite and work your way through the list. That way, if you find two homes that meet all your needs, but one has that open-concept floorplan you've been hoping for, it will be easier to make a decision.
One of the great things about buying a home is getting to choose which house best fits your needs, and some of your wants, too. Have fun with the list! Let your kids add to the list. Just make sure you prioritize and know that over the years, your wants and needs may change as your family grows larger or your children grow up and move out of the house. It's good practice to make this type of checklist each time you move to a new home.
Take it from Adade: "Making sure that you've assessed your needs vs. your wants will make the process very pleasant for you and your realtor."
Happy house hunting!