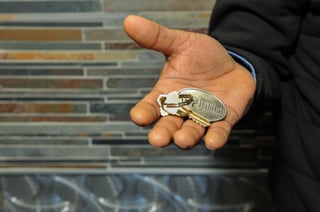 There are a number of things you need to do before you close on a home. Things like applying for a loan, scheduling a home inspection, and purchasing homeowner's insurance, just to name a few. To make the process easier to understand, here is a list of nine things you'll need to do before closing on your new home.
1. Apply for a Loan
If you already have pre-approval, now is the time to apply for a mortgage loan. If you did not obtain pre-approval, you'll want to compare rates from mortgage lenders to find the best loan.
Jen LaCroix, our Community Loan Officer for the Habitat Homeownership Program, has some tips on how to prepare your loan officer when you've settled on a house:
"The biggest holdup to closing is our clients not getting us things as quickly as we need them, or not understanding what they're asked for. So if you have questions, make sure you have open communication with your loan officer."

- Jen LaCroix
2. Prepare to Pay Closing Fees
A mortgage isn't the only payment you'll have to make to buy your home. You will also need to pay closing costs. This is usually between 2% to 5% of the cost of the home. You should also be ready to pay other fees that come with closing, such as a Homeowner's Association fee.
3. Examine the Title
The last thing you want to hear when you buy a house is that the seller doesn't actually own it. This may sound strange, but it does happen. That's why it's important to have the title to your home examined. Hire a title examiner to make sure that no one else can claim they have ownership of your home.
4. Get a Home Appraisal
Before you close the deal, your lender will hire an unbiased professional to determine the value of the home. If the home appraises for at least what you are paying for it, the lender will be more confident in lending you the money because they know the collateral is the same or greater value than the loan. Conversely, this can also help protect buyers from overpaying.
5. Schedule a Home Inspection
Most lenders will require an inspection, but you'll want one anyway to check if there are any issues with the home before you move in. If the inspector finds any structural issues or problems with the home's amenities, you may be able to negotiate to have the seller fix them. This is especially true if they did not tell you about the issue before you made an offer.
Watch out for these home inspection deal breakers.
6. Get Homeowner's Insurance
Before you close on your home, you will be required to show proof of homeowner's insurance. This is insurance that helps pay for damages to your home. Homeowner's insurance usually covers interior damage, exterior damage, loss of personal belongings, and injury that occurs on the property.
7. Transfer Utilities
Moving into a new home is exciting! But moving into a new home and learning that the water doesn't work is much less exciting. Before you move in, call the utility companies in your area to transfer the gas, water, and electricity into your name.
8. Take a Final Walk-Through
In the days before you close on your home, you will be allowed a final walk-through. This is your last opportunity to check that there are no issues or damages and that the home includes everything promised in your agreement.
9. Sign Mortgage Documents
Now, it's time for the big day! When you go to sign the mortgage documents, you will need to bring a cashier's check to pay closing costs, along with a photo ID. After you sign the documents, it's time to celebrate! You are now officially a homeowner.