Guest Blog By Bob Brending,
Global Village Volunteer
I have been given this opportunity to write my first-ever blog and the timing is such that I think it will be both easy and therapeutic for me. Today was our final day as a group to work on the seven houses for twenty-seven people in the heart of Addis Ababa. When we arrived on site five days ago we found dirt, piles of stone, and people eagerly awaiting progress on their recently-demolished (now nearly rebuilt) homes -- families who had lived there all their lives. For one woman that meant fifty years. It was the place where they had raised their families. Now they were meeting a group of fifteen strangers from the U.S. who were there to help build their new homes. Staff members from Habitat Ethiopia and our Global Village team from Twin Cities Habitat have been blessed to help with that life-changing task. Thank you for the honor and privilege to reflect and report on our final day of work!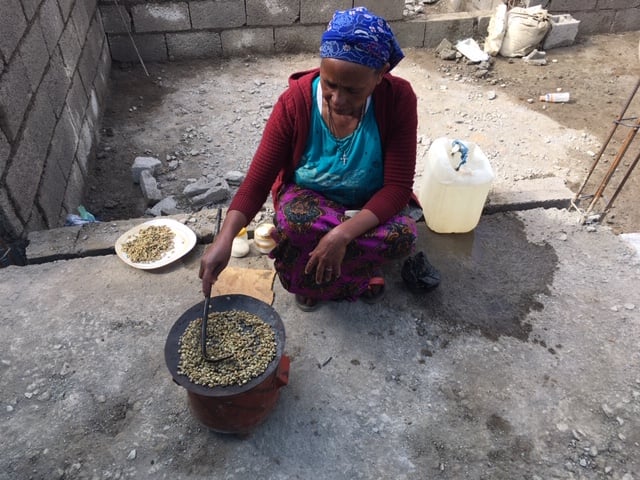 We began the day as we have every day this week. Breakfast at the hotel and then we gathered in the hotel lobby before boarding our little bus at 8:30 to take the short but interesting drive to the building site. When we arrived our friends from Habitat Ethiopia were already working hard. They were smiling and full of enthusiasm as we walked down the narrow alley to the site. We have made great progress this week and this morning the sight of standing walls and and the smell of roasting coffee beans was the first instance where I felt a bit choked up. Little did I know that it would be the first of many times in the day that I would fight back my emotions. Soon someone had the music playing and I heard one of my favorite Bob Dylan songs.
Within minutes a bustling pace of people hard at work in the sun had picked up from where we left off the night before. I began mixing grout because my height made me a liability for laying block. Once the height of the wall reached six courses I felt I was unable to do quality block laying. As I worked with my Ethiopian partners on the mixing process and the distribution of mortar I realized how much I had become attached to them individually and impressed with their stamina and work ethic. Many of us could not understand each other, but we knew the work we were doing and the respect we had for each other was an example of fundamental humanity at its best. The chatter and buzz made the work go fast. God blessed us today with no injuries and we raised the makeshift scaffolding to the point of finishing eight to ten rows of blocks on all the walls. The plumb bob proved our walls were straight and the pride on the owners faces and our own workers showed we had done the job to a high level and careful standard. There were many more officials on site today than usual and they were all impressed with the progress we had made. One told me we had completed sixty percent of the project. It was heartwarming for me to hear that. Another moment of holding back my emotions. We had our coffee break and it seemed before long we were on our way to lunch. We ate at the Taitu Hotel which has great food, atmosphere, architecture, and an interesting history!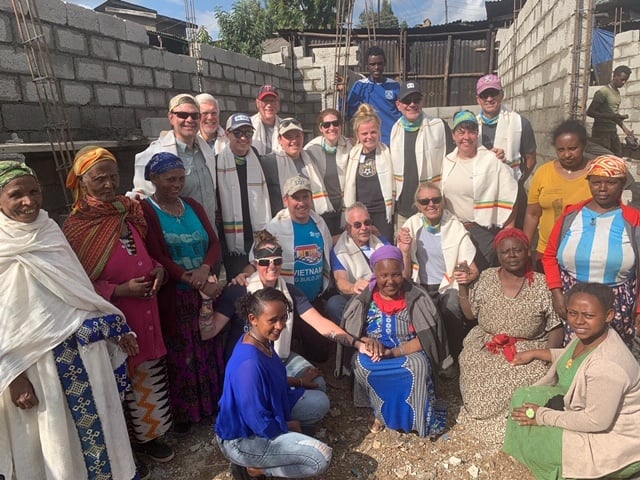 We returned to the work site after lunch, but by then our work was done. We sat down with the leaders from Habitat Ethiopia, the homeowners, masons, and the Twin Cities group. We expressed our reflections on the week just ending. It was very heartwarming and I felt blessed to have been part of the experience. We took group photos, and when I began to exchange names and e-mails with several members of the team, I finally realized we would most likely never meet again. All I can add is I am glad I was wearing my sunglasses because it was no longer possible for me to hold back my emotions.
We left the site together as a group, and on the way back to the hotel, we all piled out of the bus for a chance to visit the proud owners of a previously completed Habitat house. It was truly awesome. The finished house with smooth walls and the fine detailed finishes made it obvious that it had become a beautiful home. Here we go my emotions are starting to get away from me again just thinking about it. I thank the Lord for letting me be part of such a life changing experience. God bless the Habitat For Humanity Program.