Nothing takes the sting out of the frustrating debasement that is today's political dialogue than pounding a 16-penny nail into a floor tress of a Twin Cities Habitat for Humanity house. I only know to use the term "16-penny" after showing my Habitat supervisor two differently sized nails and asking him to pick the one he wanted.
I recently learned to "cope," which isn't what you might think. It's the 32- and 45-degree angle cuts by a table saw in a piece of molding so that one end of it matches the contour of the adjacent piece. My only perfect cope came after eight failures one day.
I learned that snap lines must be held tight for an exact location of tresses and cabinets and walls and doors, and that I needed to fill up the red chalk in the snap before — not after — my comrades were elevated precariously on scaffolding to help run the line.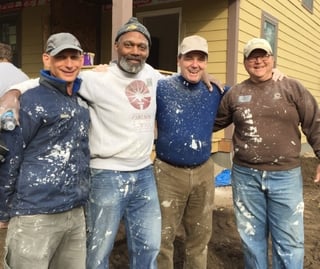 I now know that when my supervisor asks me to ready the "lam," I'm in for a back-breaking 15-20 minutes of work, because the laminate requested forms the "header," which holds the steps, and it is the heaviest piece of wood this 64-year-old volunteer has ever attempted to lift and maneuver through a crowded construction site.
I now know that if there is the slightest chip in the flooring we are installing, it goes into the trash.
I've built and installed decks in -30-degree-weather, where I was determined not to show weakness by rubbing my frozen fingers. I was and remain frightened by nail guns — particularly the kind that drives nails into concrete with an explosion by a .22-caliber blank bullet.
I've learned that I need a good hammer, not the short, wimpy kind I have at home. And if it takes more than 20 swings to imbed a single nail into the wood, my supervisor gets "worried" about me. My banker brother told me that the "pros" at Habitat really didn't want me on site because I don't know how to do anything. I found the opposite. The pros, knowing full well, that I could be a tremendous liability to them each and every day, have been extremely kind and proficient teachers of their craft. I also found that keeping my ego in check helps make the day go smoother.
I spent 40-plus years as a journalist and then as a communications executive, and, without question, working on a house for a needy family is much more fulfilling. My wife and I recently attended a Habitat ceremony in a home I helped build. The Somali family beamed as speeches were given, prayers evoked, and tours led through the rooms containing windows and doors I helped install, and beneath a textured ceiling that I mudded, across flooring that I laid, and around molding I coped. After the tour and just before we left, my wife asked one of the girls if she liked her bedroom. The teenager grabbed my wife's hand and said, "Come see."