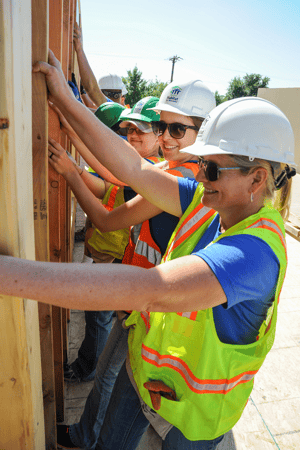 Happy World Habitat Day!
Over 30 years ago, the United Nations established the first Monday in October as World Habitat Day.
According to the U.N., this day is meant for us "to reflect on the state of our towns and cities, and on the basic right of all to adequate shelter. It also reminds us we all have the power and the responsibility to shape the future of our cities and towns."
It's a day for reflection and action. It's for us to think globally, and act locally.
At Twin Cities Habitat, our mission is "to eliminate poverty housing from the Twin Cities and to make decent, affordable shelter for all people a matter of conscience." It fits right in with World Habitat Day.
And right now, there's no better way to make a difference than to vote this election season. Our ballots build affordable homes when we elect leaders who will make affordable housing a priority.
Are you ready for Election Day on November 6? You can visit mnvotes.org to find your polling place, check your registration, and learn more about early voting.
Once you've gathered the voting information you need, join Twin Cities Habitat in pledging to vote and make housing an election issue! We can all be powerful advocates for affordable homes in our communities — starting with educating candidates about the need for safe, stable, affordable housing statewide. You can download this postcard for some fast facts and questions to ask candidates running for office.