While Twin Cities Habitat for Humanity has a long history of advocating for affordable homeownership in our community, the COVID-19 pandemic has brought a new sense of urgency to the need for housing stability. It's more critical than ever for us to stay at home, and elected leaders and advocates at the federal, state, and local levels have been working hard to find solutions that ensure families have safe, stable, and affordable homes to help them weather this storm.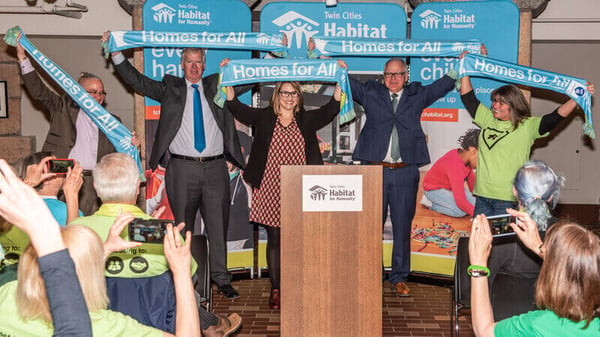 Leaders and housing advocates at Habitat on the Hill - MN 2019.
The Minnesota state legislature has continued to operate throughout the pandemic while implementing social distancing practices and virtual alternatives for constituent meetings, committee hearings, and floor sessions. During this time, they have passed emergency response packages focused on ensuring the state is prepared to meet a variety of increased needs as a result of COVID-19. However, there are still opportunities for the legislature to invest in housing before the regular session ends on May 18. The last two weeks of session are a key time for decision making, and it is critical that our state leaders protect homeowners, homebuyers, renters, and people experiencing homelessness amidst this crisis.
Governor Walz signed Emergency Executive Order 20-14 on March 23 suspending all evictions and foreclosures during the COVID-19 peacetime emergency. Despite this Executive Order, families throughout Minnesota still have rent and mortgage payments due each month. In order to assist families facing a loss of income due to COVID-19, Habitat is urging legislators to increase funding for the Family Homeless Prevention and Assistance Program (FHPAP). FHPAP dollars will help provide emergency housing assistance that families can use to pay their mortgages, rent, or utilities.
In addition to funding housing assistance through FHPAP, Habitat is asking our elected officials to support a significant investment in Housing Infrastructure Bonds (HIBs). A special kind of bond that can be used to finance specific housing development projects, HIBs provide for several uses across the continuum of housing, including:
Developing permanently affordable homeownership opportunities through community land trusts
Improving manufactured home parks
Preserving rental housing for low-income individuals, families with children, and seniors
Building supportive housing for individuals and families experiencing homelessness
We know that the economic impacts of the COVID-19 pandemic will continue to evolve, and a robust bonding bill will simultaneously create jobs and fund much needed units of affordable housing across the state.
Habitat has made these asks of our elected leaders, but we need your help to amplify our voice. You can make a difference by joining Habitat for Humanity supporters from across Minnesota for a Virtual Hill Day on Wednesday, May 6 at 10:00 a.m.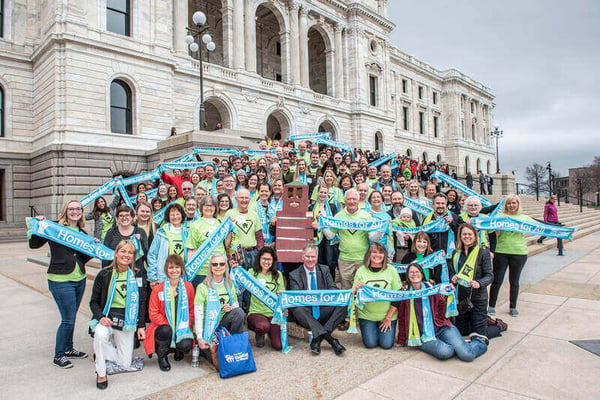 Housing Heroes at Habitat on the Hill - MN 2019.

Modeled after Habitat on the Hill, you will hear from housing advocates and state leaders about the importance of affordable housing – especially now. Habitat staff will provide updates on our legislative priorities, lead a training session on the best ways to advocate virtually, and leave you with concrete tools to take action right from your home. Register now, and we hope to "see" you there!