Here's your chance to drink for a cause. We've teamed up with four local breweries to introduce "Home Improvements," a collaborative limited-edition beer that supports Twin Cities Habitat's House that Beer Built.
You can head over to any of the four participating breweries, order a Home Improvements pint or crowler, and all proceeds will pour into Habitat's work creating and preserving homeownership in the Twin Cities.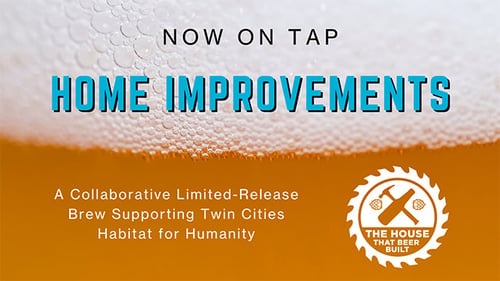 The ingredients were donated by Maltwerks and Mighty Axe Hops and the four brewing partners each gave the recipe their own spin. That means you'll want to sample Home Improvements from all four breweries:
Read on for details about each brewery's special take on this unique beer—then head straight over to pick up Home Improvements and support your neighbors.
And don't forget to join the House that Beer Built Facebook Group for the latest news on this brewing collaborative and all the ways you can help raise walls one pint at a time!
Broken Clock Brewing Cooperative
Broken Clock's brew is still brewing—you can get your hands on it in just a few weeks. When you do, you'll enjoy a double IPA that drinks light and crisp, but packs a punch at 8.5% ABV.
Early addition hops give this beer solid bitterness. Late addition and dry hopping give this beer fruity and juicy flavors and aromas of tropical fruits and berries.
Try this awesome take on Home Improvements at Broken Clock's brewery at 3134 California Street Northeast in Minneapolis, starting in mid-November. Take your brew to go or try their very cool (or should I say warm?) heated igloos on their patio. Each igloo has its own theme and will be equipped with an electric heater. Find hours, igloo details, and more on the Broken Clock website.
Clutch Brewing Company
Clutch Brewing is serving up Home Improvements as a classic West Coast Pale Ale. You'll get notes of citrus combined with a clean bitterness—and every sip helps create a safe, stable home in your community.
Head over to 928 7th St. in St. Paul to find Clutch Brewing nestled on the mezzanine of the Keg & Case Market in the historic Schmidt Brewery complex. More details on the Clutch Brewing website.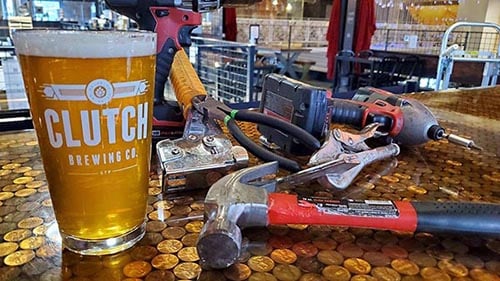 Photo via Clutch Brewing Company
Dual Citizen Brewing Company
Dual Citizen's Home Improvements is a delicious citrus-forward West Coast IPA with notes of lemon, pear, and honeydew. You'll enjoy a slight sweetness with a crisp, hoppy finish. Drink up 80 IBUs of affordable housing!
Swing by Dual Citizen Brewing Company at 725 Raymond Ave, St. Paul to enjoy Home Improvements in their airy taproom or to pick up a few crowlers to drink at your own home. Find hours and COVID-19 precautions at Dual Citizen's website.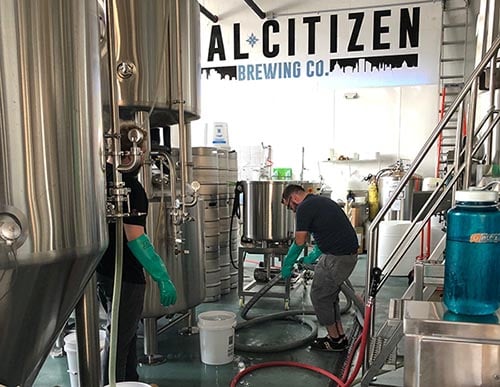 Home Improvements brew day at Dual Citizen Brewing Company in September
Under Pressure Brewing and Blendery
Under Pressure is on trend with their spin on Home Improvements—enjoy a pint of this New England-style Hazy IPA at the brewery in Golden Valley or take home a crowler. Under Pressure's brew is a fruity, juicy, hazy delight.
Head over to Under Pressure at 8806 7th Avenue N, Golden Valley. Find hours and details on their website.

Keep tabs on the House that Beer Built
Join the House that Beer Built Facebook group to connect with fellow beer lovers and Habitat volunteers. That's the place to get the latest news on the Home Improvements collaborative brew. Join the group today!