Guest Blog by Kevin Huynh,
Policy & Advocacy Intern
The value of safe and affordable homes is more apparent now than ever. COVID-19 has negatively impacted vulnerable communities and amplified the existing housing crisis across our state. The pandemic has changed the way we do things, including advocacy. That's why we went virtual with Habitat on the Hill and instead hosted a Virtual Hill Day. On May 6, over 150 Housing Heroes came together through an online webinar to learn how to advocate for affordable housing. Instead of gathering at the Capitol, we heard from housing leaders who emphasized the importance of affordable housing - virtually.
Twin Cities Habitat CEO Chris Coleman kicked things off by reminding us that housing is a bipartisan issue that impacts all of us and is vital to our state's ongoing success in the future. As Habitat for Humanity of Minnesota's Executive Director, Cristen Incitti, pointed out, Minnesota's Stay At Home order is only possible when you have a home to stay in.
Lieutenant Governor Peggy Flanagan and Housing Commissioner Jennifer Ho brought attention to how the pandemic has laid bare existing inequities and disparities. They also stressed housing as the foundation for recovering from this crisis and encouraged attendees to call, text, and email their legislators to advocate for housing.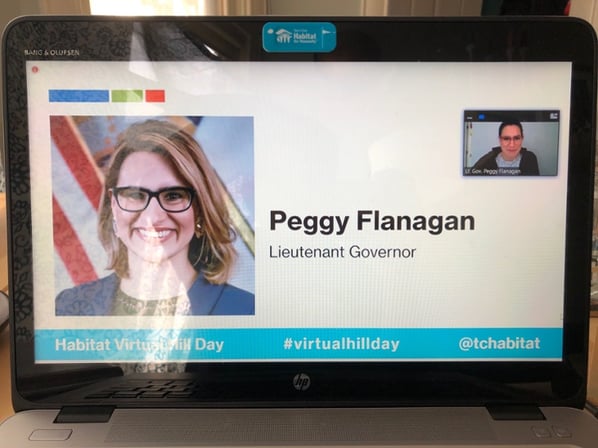 Lieutenant Governor Peggy Flanagan addresses Housing Heroes during Virtual Hill Day.
Representative Alice Hausman and Senator Torrey Westrom further inspired the crowd with their dedication to affordable housing, as well as their ongoing support for homeownership. Hausman expressed that "Nothing else goes well if you don't have a safe place to sleep at night."
A Habitat for Humanity of Douglas County Homeowner, Ash Maijala affirmed that "We all deserve to have somewhere safe to call home." Her story resonated with many attendees as she inspired everyone about the importance of stable housing for her family.
Then, we heard from the Twin Cities Habitat Advocacy Team. Policy and Advocacy Manager Greta Gaetz elaborated on this year's legislative asks (more detail in this blog):
increased funding for the Family Homeless Prevention and Assistance Program (FHPAP) to support emergency housing assistance, and
investment in housing infrastructure bonds to stimulate our economy while developing affordable housing.
Next, Policy and Advocacy Coordinator Julia Hobart guided the attendees through three virtual actions to advocate for housing:
connecting with them on social media, or
meeting virtually.
We wrapped things up with a Q & A session, where we heard from curious attendees who had many great follow-up questions. It was wonderful to see enthusiasm despite the COVID-19 circumstances.
Even though our advocacy team was planning to have Habitat on the Hill in person, Virtual Hill Day was an accomplishment. We were able to creatively pull resources together and create an alternative plan to advocate for housing. This experience showed me that with a great team that can adjust to the circumstances, we can overcome any challenge. I'm happy for the smooth event and grateful for all of the participants that appreciated our work.
Thank you to all advocates and speakers who came together during these unprecedented times, our Virtual Hill Day was a success due to your participation. We hope to see the impact that you have all made in the legislature.
There's still time for you to advocate virtually for FHPAP and housing bonds. We have put together a Virtual Hill Day Resources page and have created action alerts to guide you in your advocacy journey.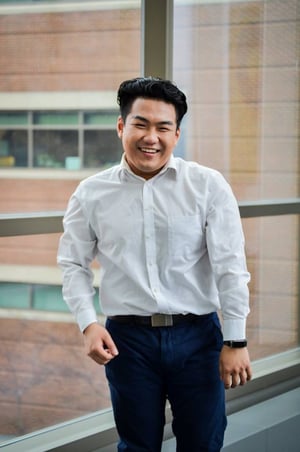 Kevin Huynh is the Policy & Advocacy Intern at Twin Cities Habitat for Humanity. He is a Capitol Pathways Intern who attends the University of Minnesota, Twin Cities with a major in Sociology. During his time at Habitat, he was also a Student Coordinator at the Asian Pacific American Resource Center and a Peer Mentor at the President's Emerging Scholars Program on campus. He is grateful for the opportunity to work at Habitat as he has experienced the legislative process first hand. Kevin is passionate about learning how he can advocate for housing and other intersectional issues.