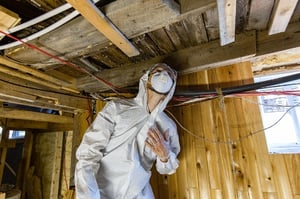 It's estimated that people spend about 90% of their lives indoors. This highlights how important our homes are to our overall health. On a global scale, the World Health Organization says we need homes with clean water, sanitation systems, a place to cook that doesn't contribute to indoor air pollution and respiratory disease (which the WHO estimates kills 2 million people a year), and proper weatherization against extreme temperatures.
Many studies have demonstrated the link between health and adequate housing. That's why Twin Cities Habitat for Humanity is heavily invested in creating more opportunities for affordable homeownership to improve the health of the families within our community.

It's in the Walls
Ridding a home of lead, mold, or asbestos can be expensive. The price presents a large barrier for low-income homeowners. Often they are left with no other choice but to live in their homes as they are, regardless of the health risks. These risks include (but are not limited to):
Respiratory issues
Memory loss
Fatigue
Poor mental health
Twin Cities Habitat ensures every home it builds or rehabs prioritizes the long-term health of the homebuyer. Here are some of the health risks addressed by our construction practices and standards.
Radon Mitigation
Radon is a radioactive gas that seeps out of the soil. It's the second leading cause of lung cancer in America after smoking. About 40% of homes in Minnesota have radon levels that present a health risk. Every new home Twin Cities Habitat builds has an active radon mitigation system built into the basement. It helps the gas vent out of the home so people aren't breathing it in.
Lead and Asbestos
Lead and asbestos have been banned from commercial use since the 1970s due to their health implications. However, renovations on older homes regularly uncover lead and asbestos. Whenever this happens, safety measures are taken to remove or mitigate the danger for the people who will be buying the home.
Mold
When mold is detected in a home that's being renovated, the affected area is gutted to the studs and rebuilt. Mold produces allergens and irritants, which can cause severe upper respiratory infections as well as other health complications later in life.
When building new homes, Twin Cities Habitat uses laminate and wood flooring, which cuts down on the chance for moisture and mold to grow, as well as other allergens, pathogens, and toxins.
Backed by Experts
In 2021, Twin Cities Habitat brought together a panel of women health experts for the 10th Annual Women of Habitat Hope Builders Luncheon. Dr. Taj Mustapha, Chief Equity Strategy Officer for M Health Fairview, shared how "Studies have shown that safe, quality, stable, and affordable housing improve health outcomes and decrease health care costs."
Dr. Mustapha also explains that "homelessness impacts multiple facets of health, but it's really important to understand that people who are not technically homeless but just face housing instability are more likely to have the worst health."
She says that children's health is also affected by inadequate housing, and the "effects include increased risk of teenage pregnancy, early drug use, increased risk of major depressive disorder, as well as anxiety."
Impact of Employment and Education
Another facet to consider is employment and the effects it has on social connections, explains Dr. Mustapha. "Disruptive employment makes it more difficult to maintain friendships as an adult. There is a connection between robust friend networks and positive health."
There is also ample research to show the benefits education has on health. Unfortunately, if employment and housing are not stable, education gets put on the back burner. "On a basic level, if you're not stably housed it becomes logistically challenging to engage in any of these things (friendship, employment, and education) that are linked with good health."
Focus on Building Affordable, Healthy Homes
With current resources, Twin Cities Habitat is able to build/rehab 50-55 new homes annually for families to purchase, in addition to delivering home repairs for existing homeowners with lower incomes. Community health matters, and this is our way of making a difference.
Our approach, that a home can be healthy and affordable at the same time, has attracted support from many Minnesota companies in the healthcare field, including: Allina Health Systems, Assurant Health, BioLife Plasma Services, Blue Cross and Blue Shield of Minnesota, HealthPartners and Park Nicollet, M Health Fairview, Medica, Medtronic, Prime Therapeutics, and ProVation Medical.
Making affordable homes healthy is at the heart of what we do – and you can help too. Check out our build opportunities and begin making healthy homes more accessible to everyone in our community.