In the same week a report was released naming the Twin Cities one of the most expensive cities for medical costs, a group of leaders from the metro gathered to discuss the impact of housing on health conditions at the third annual Women of Habitat Hope Builder's Luncheon. An analysis of health care costs by Castlight Health found Twin Cities residents are paying the most on preventive primary care visits compared to 40 other major cities.
When families are paying more and more for routine doctor visits, it will inevitably take away from housing, savings and necessity costs. Often those who are living in poverty housing are also spending the most on health care due to things like poor ventilation, mold, overcrowding, and a host of other conditions linked to negative health outcomes. Each doctor or emergency room visit costs Minnesota families, and many could be prevented with improved housing conditions.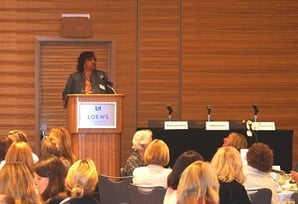 For Ya Landa Kinchelow, this was exactly the case. After buying her Habitat home in 2010 her son's asthma has cleared and she has not had an attack herself. She shared her Habitat story with the women who attended the luncheon and brought them back to the days when she was raising two young boys in an unsafe apartment building.

"How could I, a single mother, paying high rent for an apartment, qualify" for a Habitat home. Kinchelow was determined to have a house of her own where her sons could grow up to learn to take care of a house and a family.

Back in 2010, before buying her Habitat home, Ya Landa spoke with Twin Cities Habitat President and CEO Sue Haigh. Sue asked Ya Landa why she was excited about purchasing a home and her response was "I want my boys to learn to shovel the walkway and to be able to rake the leaves and mow the lawn and learn how a house works, to grow up responsible."

Five years later, that is just the case. With one son mid-way through college and the second starting his search for the right school, both have grown up to be the healthy and responsible young men she hoped for.
As said by Sue, who welcomed Ya Landa to speak, "Housing can be a game-changer in so many ways, education, job opportunities and certainly health outcomes. It's an investment that pays off for generations."
Discovering the connection between housing and health outcomes is not always apparent if we have been blessed with a healthy body and a stable home. For the health professionals in our area, this has become a top priority and is often one of the challenges they face in treating patients.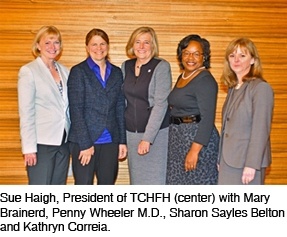 Accompanying Ya Landa's story of how housing has improved the health and quality of life for her family, a panel hosted by Mary Brainerd, President and CEO of HealthPartners, helped illustrate the effects of inadequate housing on a person's health.

Brainerd opened the panel by saying "health is a collective thing, health is an attribute we share in a community. Forty percent of our health is determined by socioeconomic factors in our community. Where you live, your zip code is a major determinant of your life expectancy."

Panelist Penny Wheeler, M.D, President and CEO of Allina Health was able to share how her experience with patients has proved when people are living in unsuitable housing "there are high rates of infection with disease borne illnesses, higher risk of respiratory illnesses with things embedded in old carpeting and mold" present in the home.

"We are even learning more and more about mental illnesses and the psychosocial stresses associated with poor housing environments."

The connection between mental health and housing also needs to be addressed when looking at the overall health of a person living in an area of poverty.

"If I don't have a roof over my head it's really hard to figure out what I'm going to do with the rest of my life" was the point Sharon Sayles Belton wanted to get across to the 325 women in attendance.

As Vice President of Government Affairs and Community Relations for Thomson Reuters, Legal and a former Mayor of Minneapolis, Belton has seen the effects on children who live in overcrowded, rodent and pest infested apartments and how that influences the rest of their lives and futures.

While much of Habitat's work has benefited the children in our neighborhoods, the scope of work to improve safe housing conditions includes seniors and the disabled with Habitat's home repair program A Brush with Kindness.

Kathryn Correia, President and CEO of the HealthEast Care System touched on the ways seniors are affected by unsafe housing.

"We are number five in the nation for falls, due to isolation" and the fear of falling and fear of being alone contribute to these accidents. "We know that those in stable housing participate more in activities, are more social, and involved because a lot of the burden and fear or anxiety is taken away" when they have a safe place to live.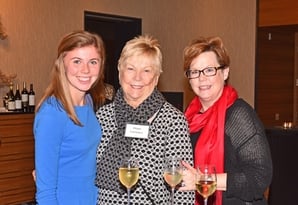 It was clear that opening the conversation up to the inequalities in housing was inspiring the leaders in the room to take action. All of the panelist attested to the organizing, advocating and financial power everyone in attendance has to changing our community.

Sue Haigh closed out the luncheon by reminding everyone that "improving the health of low-income families has been the beautiful byproduct of Habitat for Humanity's work here in the Twin Cities for the last 30 years."

"Your partnership is critical to our success and our ability to serve more families. Being here makes you part of the solution to addressing and eliminating housing poverty and making sure everyone has an affordable and safe place to live."

The Women of Habitat committee would like to thank all of the attendees who generously opened their hearts to learn about the ways housing places barriers on our ability to live happy and healthy lives. Together over $80,000 was raised to change the housing landscape in our Twin Cities neighborhoods.
Check out photos from the luncheon in our album and read the Star Tribune's review of the event.