With Thanksgiving just days away, are you looking forward to or dreading the family table conversations? If you fall into the latter category (even if you don't), you might get a good laugh from this 2015 sketch on Saturday Night Live called "A Thanksgiving Miracle." In the sketch, a family barely makes it into their Thanksgiving dinner when they start arguing. But then something happens that miraculously brings everyone together: Adele's hit song "Hello" starts playing, and no one can resist singing along. It's hilarious.
At Habitat, we know something else that brings people together: home. We believe that everyone deserves a safe, stable place to call home. When we advocate for policies that support affordable housing, politicians of every political stripe get on board. Here are a few ideas of things you can do with your family that also make a positive difference for housing in the Twin Cities.
Start a conversation
Many families (including mine) go around the table and share what we're grateful for each Thanksgiving and Christmas. Here's some other conversation starters to foster gratitude for the warmth of home:
What's a favorite memory of home from your childhood?
What does home mean to you? (Try distilling it to just one word, and then expanding from there.)
What's your favorite room in your home? Why?
What's your favorite volunteer experience? What did you like about it?
The Twin Cities is in an affordable housing crisis right now—what do you think we should do to make sure everyone in our community has a decent, affordable place to live?
Check out our Multiplying the Impact fundraising campaign page to see ways to make a difference right now with Habitat.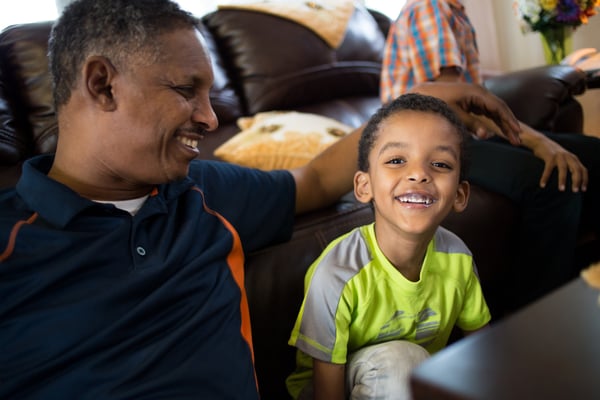 Give the gift of home
Many families have chosen to shake up their gift-giving routine so they're also giving back to the community. There's a couple ways you can do that with your family or yourself:
Challenge yourself (or your entire family) to donate half of what you'd spend on Christmas gifts. An entire congregation did that one holiday season, and they almost doubled their goal and raised enough to build an entire Habitat home.
Instead of a physical gift, make a donation to Twin Cities Habitat in honor of someone for the holidays (or whatever special occasion you want), and we'll send them a card. This is also a great way to give in memory of a loved one.
The holidays are a great time to discuss the legacy you'd like to leave someday. There are many ways you can plan now so that you can do even more for families after your lifetime. Check out our planned giving resources.
Instead of a family gift exchange, pool your money to help another family buy a home. You can challenge yourselves to see how much you can raise. Here's a few Habitat milestones you can aim for:

$100 helps one Habitat homebuyer to go through all the classes that prepare them for homeownership, like "understanding homeowner insurance" and "home maintenance and repairs."
$250 covers the installation of the sidewalk leading to the front of a new Habitat home—site of kids' chalk drawings in the summer.
$1,000 installs all the interior doors of a Habitat home—doors that will give some kids their own room (and privacy) for the first time.
Check out all the ways you can give >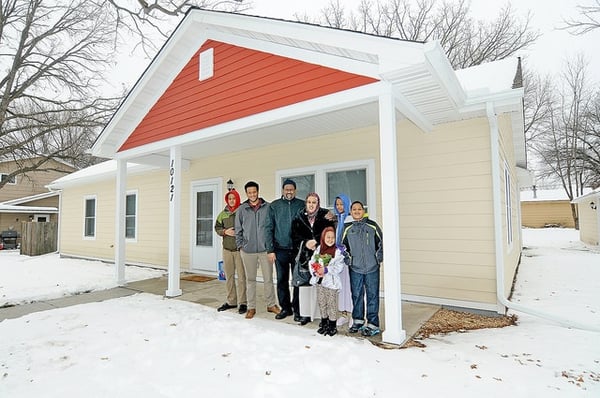 Volunteer together
Most people don't know this, but I'll let you in on a secret: Twin Cities Habitat has volunteer opportunities year-round! In fact, you can build on a Habitat home on Saturdays in the winter, which isn't available in the summer. But don't worry—you won't have to be out in the snow. Volunteering at a Habitat home in the winter is all inside.
There's also many other ways to volunteer together in the winter, like at one of our ReStore Home Improvement Outlets. There's also often office volunteer opportunities, like helping us get all our donation thank-yous in the mail. We might even have some hot cocoa for you.
Volunteering together as a family is one of the greatest bonding experiences you can have. Many families make a tradition out of it, including this family who volunteers each year in memory of one of their family members who was a proud Habitat supporter.
Check out group volunteer opportunities >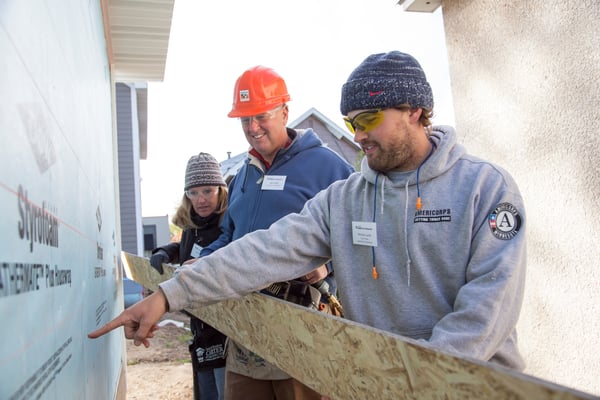 Craft together
Check out our ReStore DIY page for countless craft projects, like creating decorative Christmas trees out of building materials. Then, head to the ReStore with your family and pick up the materials you need for cheap. Our staff are full of helpful ideas if you need inspiration. Here's a few ideas to jump start your creativity:
DIY with ReStore: Fun Holiday Decorations [VIDEO]