Throughout January, we're showering gratitude on all the Twin Cities Habitat for Humanity supporters who make our mission possible. We call it "Thankuary." In our blog this month, you'll see stories about generosity in action from members of the Habitat community. Read this blog about a couple who decided to fully sponsor a Habitat home.
---
David and Karen Olson have always held Twin Cities Habitat for Humanity close to their hearts. They know there's a huge need for more affordable housing in the Twin Cities, and they're impressed with Habitat's ability to prepare families for success in homeownership. Recently, they stepped up in a truly exceptional way—by fully sponsoring and volunteering on a Twin Cities Habitat home.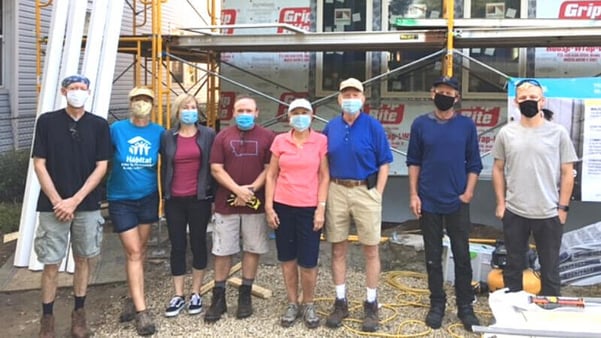 The Olson family and friends volunteering together on the home they sponsored. Karen is in the middle (pink shirt), with David next to her (blue shirt).
Giving back is a strong value for the Olsons. They both grew up in small Minnesota towns. David's dad had a hardware store, and he was impressed by his dad's generosity as a business owner. When migrant workers came in with no money but needed tools, his dad would allow them to have the tools and pay back in small installments. Karen's family didn't have much growing up, but she remembers her mom bringing food and clothes to other families with less than them.
"It was a part of our growing up that you always helped somebody that didn't have as much as you did," said Karen.
Helping people was part of the business David and Karen created together 35 years ago: Prepare /Enrich. It's used to help couples prepare for marriage and enrich marriage, and has been used by more than four million couples around the world (including this writer!).
As David and Karen Olson approached retirement several years ago, they knew they wanted to spend more time volunteering and giving back. And they thought Habitat would be the perfect opportunity for them. As members of the Builder's Circle, they were invited to join the annual Builder's Circle Build. They jumped at the chance.
David and Karen enjoyed their build day experience—learning new skills and meeting new people. At lunch, they asked another couple how often they volunteered, and were surprised to hear they volunteer every day!
"It made me realize how many good people there are in the world," Karen shares.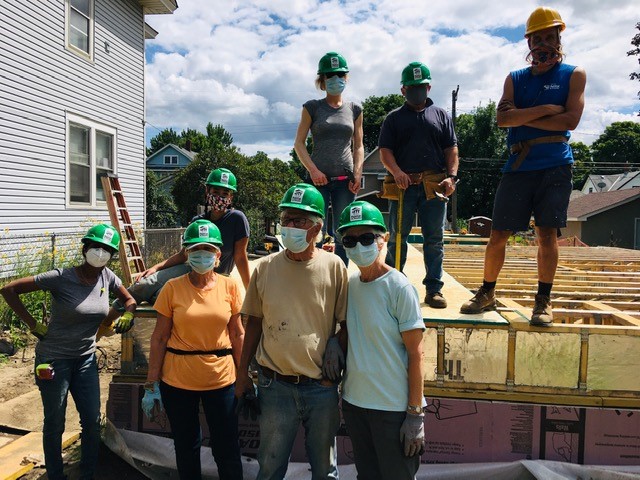 The Olsons enjoyed getting to know other volunteers throughout their home sponsorship experience.
Later in the day, Karen and David heard from another Habitat supporter, Corey Sauer, who shared about his experience fully sponsoring a Habitat home and volunteering on it.
"We weren't aware that you could do that until that day," Karen says. "That opened our eyes. We thought, 'maybe we could do that!' And the more we talked about it, the more excited we got, because it could be a real family project."
The Olsons decided to fully sponsor a Habitat home and invite their friends and family to come volunteer with them. The home they were matched to is in St. Paul, not too far from their own home. And despite the pandemic, they were able to volunteer safely with friends, family, and other volunteers throughout the summer. (This winter we have temporarily suspended volunteer activities—read more about Habitat's COVID-19 response here.)
"We really did want to get children and grandchildren involved in giving," says David. "Giving is a win-win situation and they need to experience that. They all felt it was a positive experience to do the work and see the house and participate. And I was impressed by how many other people worked on the house—it was close to 200 other people!"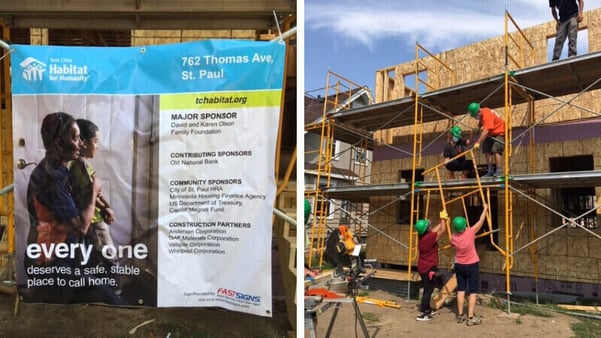 Left: the site sign showing the Olsons as Major Home Sponsors with some of the other groups who helped make the home possible. Right: a snapshot from one of the many volunteer days for Karen and David.
As Karen and David worked on the home throughout the summer, they'd often bring friends and family members who learned about the need for affordable housing while also learning new construction skills. They loved that they could pass on their values of generosity and giving back to their children and grandchildren in such a tangible way.
When they invited friends, they were pleasantly surprised at the enthusiastic response they received—folks were happy to be invited and ready to get to work. Even those who couldn't do construction work found other ways to chip in, like bringing lunches. And any worries about a lack of construction experience evaporated with the help of their site supervisor, Isaac Mathison-Bowie.
"He found jobs for everyone and trained everyone and was a great leader," Karen says. "We were very impressed with how he worked with everybody. At the end of the day, it was amazing what eight of us could accomplish!"
Another highlight of their experience: getting to meet other Habitat volunteers.
"I met a woman who said, 'I'm off my job and my husband is working from home and I thought why not volunteer for Habitat?'" Karen remembers. "This is someone who lost their job and is here volunteering. It speaks well of Habitat that people are willing to do that."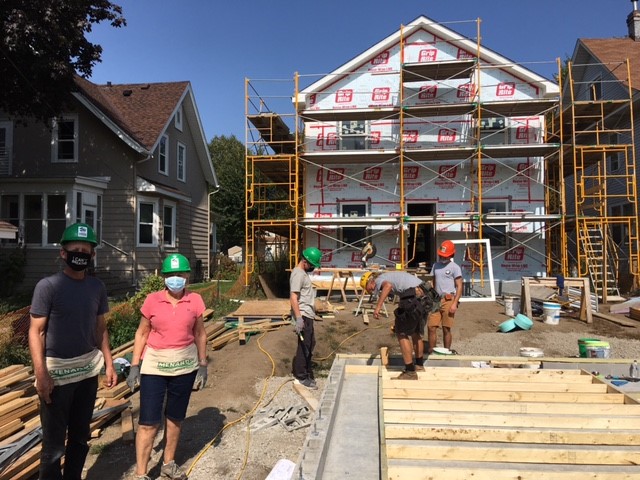 Karen next to her son Chris (left) as more progress is made on the home.
From top to bottom, this has been a very rewarding experience for Karen and David, their family and friends, and everyone involved. They are so glad they made the leap to home sponsorship and recommend it to other Habitat supporters who might be considering it.
"We are so impressed with Habitat as an organization," says Karen. "Everyone is so cooperative and collaborative—they made it very easy for us to be involved. We feel proud of the organization!"
We're so incredibly grateful for Karen and David's generous support, and for the thousands of Habitat supporters across the Twin Cities. Every time you donate or volunteer, you're helping more local families experience the transformational power of stable, affordable homeownership. Like the Olsons say, it's a win-win for everyone.
---
Maybe Habitat sponsorship is right for you! Learn more about the different sponsorship opportunities and recognition levels we offer.