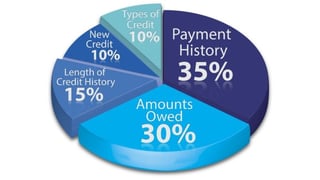 Whether you're actively searching or simply thinking about starting to look for a home, you can put this time to good use by trying to improve your credit score before your first home mortgage application.
Just as borrowers with high credit scores tend to get lower mortgage interest rates, borrowers with low credit scores tend to get higher rates. If you fall into the low credit score category, you may be considered a "higher risk" borrower to lenders. The good news is that you have the power to change and improve your three-digit credit score over time.
Why does this matter to you as a homebuyer? Ultimately, a higher credit score could save you thousands of dollars over the life of your mortgage. Here are six proactive measures you can take to raise your credit:
Clear the Report of Errors
Believe it or not, mistakes creep into credit reports. It can be frustrating to see mistakes on your report, but there are steps you can take to get these errors fixed. Be prepared to write a letter (not just make a phone call) to resolve the issue(s). Supporting documentation – in other words, evidence – is always helpful. Have patience and be persistent. Even small errors can make a big difference when it comes to your score, and it benefits you to have an accurate report.
Reduce Credit Debt and Eliminate Balances
Lenders would rather see a $250 balance on one card than the same balance spread out among three or four different cards. They call these low balances "nuisance balances." But they can be more than a nuisance to you, dragging down your credit score. Pay off low balances, if you can, and try to use only one or two cards.
Keep Your Ratio at 30 Percent
It's best to use as little of your credit as possible in order to increase your credit score. Try not to spend more than 30% of your credit. This is called your credit utilization ratio. For example, if you have a $1,000 credit limit on your credit card, you should spend no more than $300 of it. Even if you regularly spend more than the recommended 30% but pay your bill in full and on time each month, your credit score will decrease.
Use – Don't Abuse – Your Credit Cards
At the same time, a zero percent credit utilization ratio (for example, not using your credit card to make purchases) can backfire, too. In fact, one study found that people with a zero percent ratio had lower credit scores than those who used between one percent and twenty percent of their available credit. Use your credit cards responsibly. Don't charge more than you can afford to repay and don't let balances accrue. But do use your credit cards because they can improve your credit score.
Pay Bills on Time
Paying bills on time is a guaranteed way to protect your credit score. If you don't have a guaranteed way of keeping track of due dates, develop one to get back on schedule. A good way to do this is by setting a reminder on your phone. Slowly but surely, your credit score should reflect your efforts.
Don't Apply for New Credit
As you prepare to apply for a mortgage, keep a low credit profile. This means you should not apply for new lines of credit (for credit cards or purchases). Credit reporting agencies take notice of these activities and elevate your risk factor accordingly.
Free Credit Report Resources
You are entitled to a free credit report from each of the three credit reporting agencies (Equifax, Experian, and TransUnion) once every 12 months. You can request all three reports at once, or space them out throughout the year.
Request your free credit report:
Online: Visit AnnualCreditReport.com
By Phone: Call 1-877-322-8228. Deaf and hard of hearing consumers can access the TTY service by calling 711 and referring the Relay Operator to 1-800-821-7232.
By Mail: Complete the Annual Credit Report Request Form (PDF, Download Adobe Reader) and mail it to:
Annual Credit Report Request Service
PO Box 105281
Atlanta, GA 30348-5281
Still have questions?
It's natural to have questions about your credit score and how it will impact your mortgage rates. Don't hesitate to bring your questions to Twin Cities Habitat for Humanity's Homeownership team or the loan officers at TCHFH Lending, Inc. We can help you develop a step-by-step plan to improve your score, as well as assist you through some of the other important steps in the home buying process. We share a common goal, and that's to help you buy a home!