Guest blog by Polina Montes de Oca
Neighborhood Revitalization Program Manager
This past summer, Twin Cities Habitat was approached by the ITS (Intro to Success) Festival's team to partner on their annual event that brings young artists and entrepreneurs of color to explore opportunities that will help them excel in their creative field.
With the conceptual framework changing year by year, the 2019 theme was designated as "Reimagining our World." As explained on the ITS Fest website, "Our 'world', is Northside Minneapolis, and our reimagining of it provides the ethos of the event. Through a block party-style structure we will utilize space design, activities, music, and art to communicate this reimagination of our community. We will address how we see ourselves, outside stereotypes of Northside, and what we want to see flourish in our community."
So how did Habitat get involved in this community-art collaboration? The creative team actually reached out to Habitat, recognizing our contribution and presence in the Jordan neighborhood of North Minneapolis through our Neighborhood Revitalization program. The team was seeking carpentry assistance in fabricating an art installation and general volunteer support for the big event that was carried out on August 24th at NEW RULES, a co-work, events and retail space in the Jordan neighborhood.
Both the art fabrication and the event were major successes! Over 25 local artists including performers and producers, contributed to sharing their skills, techniques and talent to over 300 Northside residents.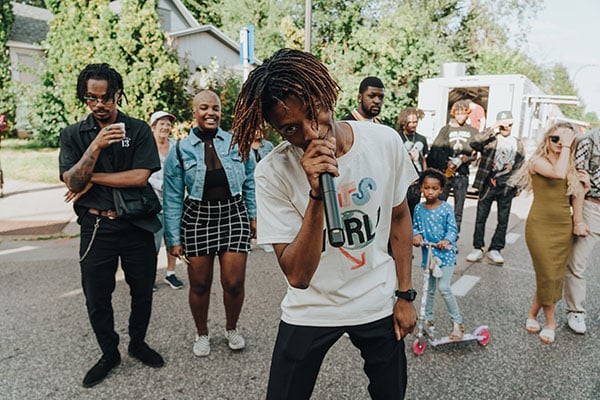 Christopher Webley, owner of NEW RULES enjoyed watching people of all ages come out "to reminiscence their younger days and find joy in seeing young people come together having fun and being safe, even if it wasn't their flavor of music."
Philli Irvin, a creative team member, valued how the project "exposed [young artists] to new ideas, setting a tone for what can be done."
"Our internal team learned a lot, like how to lead. There was a crazy amount of freedom in the environment. You could be whoever you wanted to be in that environment" he added.
Christopher, who also helped oversee the various components of the project, mentioned how ITS Fest is an opportunity for "artists to understand the different moving parts of project management and develop invaluable, transferable skills that they can apply to other projects."
As for Habitat's involvement, it seems like we came in just at the right time as the creative team was putting together the art installation that was exhibited during the event. Both Christopher and Philli appreciated how Habitat was able to go with the punches as the creative team was figuring things out. Habitat provided a handful of skilled volunteers to help finish the art installation, a ReStore discount for some materials, and volunteers to help with event logistics. A shout out to Noah from Crafted North who found the opportunity on Instagram one week before the event.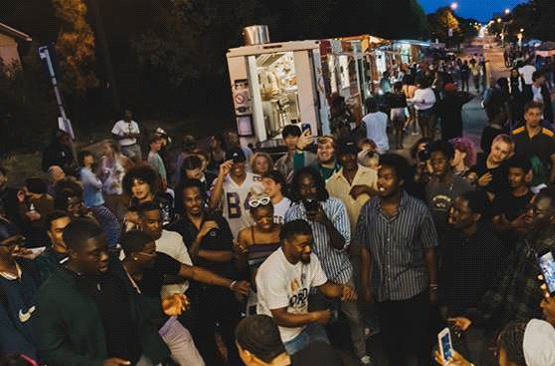 What will next year's ITS Fest look like? Even though the location of the event and the specific project components are not so clear for Philli, the vision to foster an "eco-system" that was created during ITS Fest 2019 is something he's passionate about.
For both Habitat and the creative team this unique collaboration has strengthened Habitat's presence in North Minneapolis and our ongoing community relationships. Both NEW RUES and the ITS Fest creative team can confidently reach out to Habitat for future community collaborations. We'd be happy to join!