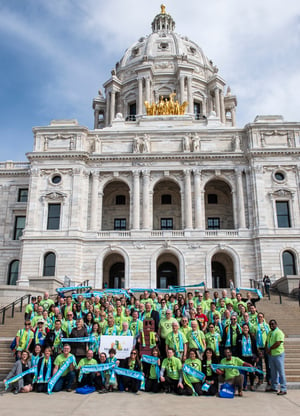 Guest blog by Pam Johnson
Policy and Advocacy Manager
Minnesotans will head to the polls on November 6 to cast ballots for our next Governor-Lieutenant Governor, Secretary of State, Attorney General, and State Auditor. All State House Representatives, and one state Senate special election are also on the ballot, as well as all ten members of our federal Congressional delegation—eight federal Representatives and our two federal Senators. There are numerous local races as well. This is an important election and your vote counts!
2018 Election Fast-Facts
It is our goal at Twin Cities Habitat to encourage our supporters to vote and to help educate candidates for office about the need for affordable housing statewide. We recently created a postcard to assist you in your preparation to vote and to help you educate candidates about the need for affordable housing in your community. We encourage you to print this card and keep it handy in the coming months.
The postcard has information about where, when, and how to vote and a link to mnvotes.org for more information. It also has three simple things you can do when a candidate for office calls you or knocks on your door:
Ask: More than 1 in 4 Minnesotans spend more than 30% of their income on housing. What will you do to increase affordable housing options so families can focus on work, school, and health?
Ask: Statewide, we're more than 90,000 affordable housing units short for Minnesotans at the lowest incomes. What local, state, or federal resources will you target to address Minnesota's affordable housing shortage?
Share why affordable housing matters to you in your community! You can share a Habitat story, a personal story—whatever inspires you most.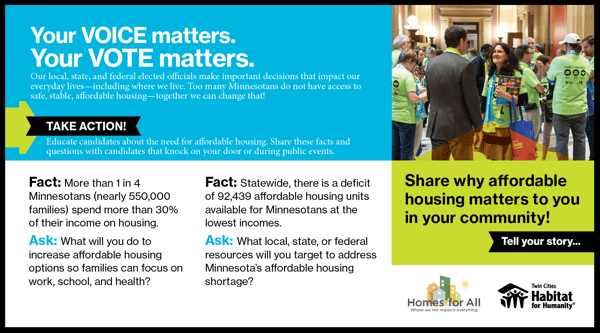 Learn more through the Housing Forum
We encourage you to participate in an upcoming Housing Forum with Lieutenant Governor candidates Peggy Flanagan (with Tim Walz) and Donna Bergstrom (with Jeff Johnson). Habitat and statewide Homes for All partners are hosting the event called "A Foundation for our Future: Housing as an Economic Driver." This free event is Wednesday September 12 at the Duluth Entertainment and Convention Center (DECC) from 5-7:30 PM. Get more details and to register for the forum in Duluth.
Can't make it to the forum? No problem! We are also live streaming the forum to enable more Minnesotans to hear our candidates for Governor respond to questions about how they plan to address Minnesota's affordable housing crisis. Register to join the live stream event.
Have a question you would like to pose? You will need to register for the in-person or live stream event to do so, but it's not too late! Please consider submitting a question from your perspective as a Habitat supporter, demonstrating your support for affordable homeownership and housing across the continuum.
Thank you for all you do to make homeownership possible for more Minnesota families!