"This whole journey has been emotional. It is overwhelming. I still don't believe it."
Twin Cities Habitat's most recent homebuyer, Bonnie, shared her joy and thanks with Twin Cities Habitat for Humanity staff, volunteers, sponsors and supporters at her home dedication in Maple Grove last week. She also shared a special "thank you" with a generous man who made this home available to her and her family.
Bob Karlstrand is described as quiet, thoughtful and warm. "He has the most piercing blue eyes and such a strong presence. I remember when I first met him, I checked the parking lot expecting to see a Harley-Davidson parked out there," said Mike Nelson, Land Development Director at Twin Cities Habitat.
Last year, Bob came to the Twin Cities Habitat office and met with Mike to discuss donating his home through Twin Cities Habitat's Veterans Initiative to another veteran family. He explained that his colon cancer was advanced and aggressive. When it spread to his lungs, doctors told him he had months, not years, left.
Bob bought his home in Maple Grove in 1976. He told guests at the dedication that he bought it directly from the builder that had built many of the homes in the neighborhood. In the years that Bob lived there, he watched the neighborhood expand around him, becoming the tight community that it is now. Bob wanted to make his home, and the community, available for another family to build a life in.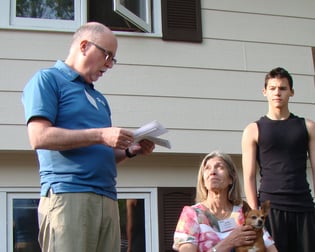 "I've been blessed to be part of Habitat for fifteen years, twelve in my current position. Every gift we receive is special, but what Bob has done is tremendous. His generosity will live on for many years," Mike said as he spoke about working with Bob.

Bonnie shared the impact this gift has made, not just on her housing situation, but on how she will continue to live. "I have learned so much from working with Habitat. It has affected me and everything I do."

She thanked Lynda Bouley, the Site Supervisor that oversaw the work done on the home, for inspiring her. "I realized I had some biases that I didn't know about when I met Lynda. She isn't at all what I expected someone in construction to look like, but boy can she do it all! Lynda, like so many that work at Twin Cities Habitat, can move mountains. She inspired me to try everything, even the power tools, and I've enjoyed it so much that I will continue to volunteer with the Tuesday regular crew."

"There is the potential for everyone to move mountains," Lynda countered. "Bonnie moves mountains. Working with Bonnie was a pleasure. She would come in and go straight to her projects, with this incredible drive. Sometimes you meet people that you want to put in your pocket, wonderful friends that you want to keep with you. Bonnie is one of those people."

Bonnie says she is still overwhelmed by Bob's gift. "We kept as much of Bob in the house as we could." This included matching paint colors, keeping the living room couch that once belonged to his mother and matching the oak woodwork Bob's father put up. "Bob, you are the foundation. You cultivated this land. We cannot thank you enough." Read more about Bob's life and his decision to donate his home here.

View pictures from the dedication.

Here at Habitat for Humanity, we are proud of our service men and women and are very thankful for their service. On May 27-28, Twin Cities Habitat for Humanity ReStore will be hosting a special Memorial Day Weekend Sale, offering customers 20% OFF their purchases. During that sale, military servicemen and women will receive an additional 10% OFF, for a total of 30% OFF their ReStore purchases.