In 1967, Bob Karlstrand graduated from high school and enlisted in the Air Force because he was just 17 years old and the Navy wouldn't take him. At the height of the Vietnam War, he was stationed south of Bangkok in Thailand, handling logistics for B-52 bombers.
"We'd coordinate everything they needed," Bob remembers, "and they were flying 30 missions a day." It was a 24/7 job and Bob was stationed there for a year.
In his time off, Bob toured Thailand. This was the start of a lifetime of traveling adventures. Bob has seen Machu Picchu in Peru and Angkor Wat in Cambodia, and he's spent more than a month traveling by bus to the immense Iguazu Falls where Paraguay, Brazil, and Argentina come together. He's volunteered in Guatemala and spent months crisscrossing China. Bob has seen the world, and now he is preparing to leave it.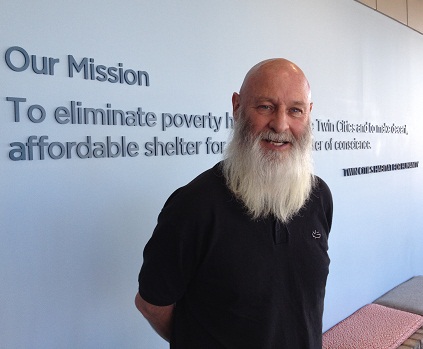 With quiet dignity and powerful resolve, Bob explains how his colon cancer has spread to his lungs. It's getting harder to breath and walk. Doctors told him he has months, not years. He made the difficult decision not to renew his stamp-filled passport. He also had to decide what to do with the home he owns in Maple Grove. Bob never married and has no kids.
"The home cost $37,900 in 1976," Bob says. "It's a good home; it could have four bedrooms. It's in a quiet neighborhood. My plan was to give it to a young couple or family that I'd gotten to know, but I don't think I have time for that."
That's when Bob found Twin Cities Habitat for Humanity's Veterans Initiative and decided he would donate his home.
Bob got in contact with Mike Nelson, Director of Land Development for Twin Cities Habitat for Humanity, and explained his situation. Mike agreed that the home would be a great fit for a family and arranged everything. Bob is going to stay in the home as long as his health allows him to. But he already dropped off his keys when he filled out the last of the paperwork.

Bob didn't set out to get attention for this amazing act of kindness toward a family he will never know. When we asked if we could share his story, in hopes of inspiring others to support our work with Veterans, he understood the motivation and agreed.
Recognizing that Veterans are disproportionately affected by housing challenges, Twin Cities Habitat launched this initiative in 2012 and soon earned Yellow Ribbon accreditation. In the past three years, Twin Cities Habitat volunteers, working through A Brush with Kindness, have helped repair the homes of 34 Veterans and their families. In that same time frame, four local Veteran families have completed the Homeownership Program and purchased Twin Cities Habitat homes.
Bob's hope is that the next income-qualified Veteran's family will purchase his house and make it their home for decades to come.