We recently held a Stories of Home Contest where we asked Twin Cities Habitat homeowners to share a story answering the question: "What does your home mean to you?" Here's one of the stories in the homeowner's own voice. Story and photos shared with their permission.
Written by Marinette D., Habitat Homeowner since 2018.
Before Habitat for Humanity, I used to live in a one bedroom apartment with my family.
It was so difficult for us because my neighbor always banged the wall, days and nights, and called the police on us saying that my kids make a lot of noise. It was so annoying and stressful to be around, and it came to a point where we couldn't even spend time in our own house and it really affected my family negatively.
But we always have hope because with God, nothing is impossible.
One day we received a piece of mail from Habitat for Humanity saying that we qualify for their program, and from that day we knew everything was going to be okay.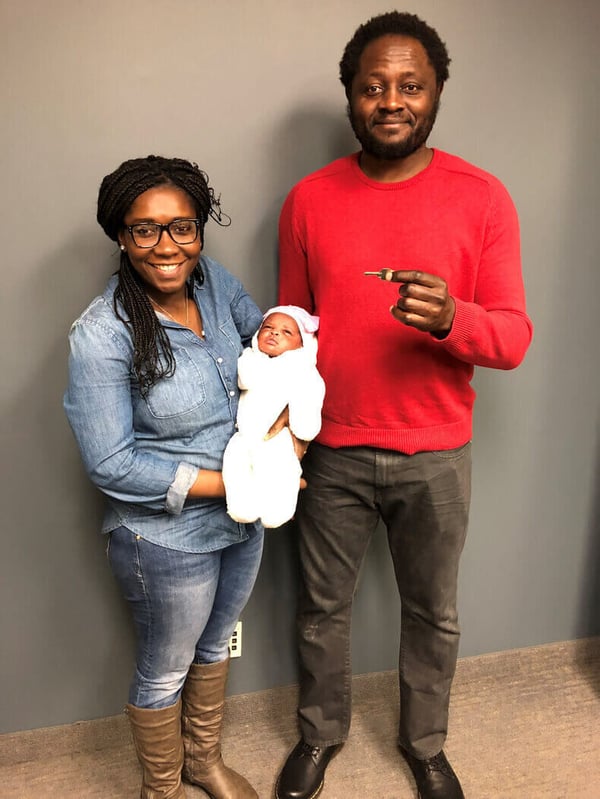 Marinette and her family at their home closing.
I was so happy, not for me but for my precious gifts (KIDS), because I knew they were going to have a place to call home. A space for them, where they can play and where no one was going to bang the wall or call the police on them.
Today they have all that: a backyard where they can play, a room for themselves, and they always say "Mommy, we love our new home!"
Seeing my kids being so happy brings tears to my eyes, and for that I give Habitat for Humanity a big THANK YOU for all your support and help. Special thanks to Adade, Maureen, Dao, and to all on Habitat for Humanity's Team. May God bless you all.
And for all the potential homebuyers, be patient. I know sometimes the waiting list can be long, but be patient because no one out there will take the time to guide and prepare you like Habitat for Humanity does. For them, you are not a statistic or one more client. You are valued, and they will always be there when you need them the most, even after your purchase. Good luck and may God bless.