With a huge smile on her face, Hope Hensley shared a recent experience volunteering at ReStore. After selling every refrigerator on the sales floor by the end of her shift, all Hope could think about were the families that would benefit from a great day of ReStore sales.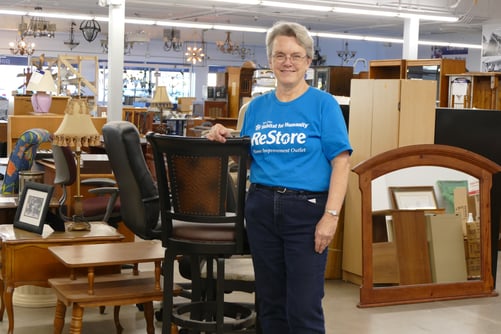 "When I ring up a big-ticket item, I get this thrill because I know money from every sale goes towards a family buying a home," Hope said.
Hope's first introduction to Habitat came from a unique source. After relocating from Iowa, Hope was introduced to a local Realtor, Sharlene Hensrud. While emailing her Realtor, Hope noticed a signature at the end of Sharlene's emails. It stated that she donated $100 to Habitat for every home she sold. From that signature, Hope logged onto our website and decided she wanted to also support Habitat's mission.
Hearing about the opening of a new ReStore seemed like a perfect fit, seeing that Hope had previously help open two department stores in Iowa. Hope also was no stranger to ReStores. She used to shop at the ReStore with her late husband.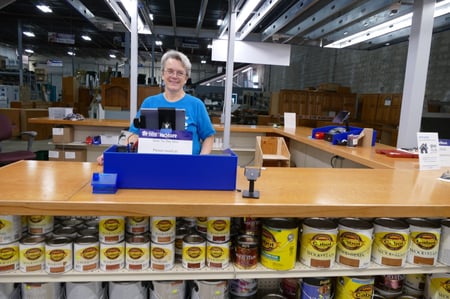 Hope has consistently worked since she was 16 years old. While the ReStore is Hope's first steady volunteer experience since retirement, she has also volunteered with her church, Emerson Elementary School, and Be the Match, which is part of the National Marrow Donor Program. Hope approaches each volunteer position with the same attitude. "My commitment to work is the same as if I am being paid."
It is this level of commitment that makes Hope such a valuable member on ReStore's team. "Hope is great! She volunteers at the Minneapolis store twice a week, was my first volunteer over there and has actually helped open three stores, here and in Iowa," said Jill Carmody, Restore Manager.
At ReStore, Hope answers phones, provides great customer service on the sales floor, and completes transactions at the register. She appreciates the opportunities to chat with Habitat homeowners who shop or volunteer at ReStore because it allows her to put a face to the homeowners at the core of Habitat's mission. Hope is even looking forward to volunteering on her first Habitat build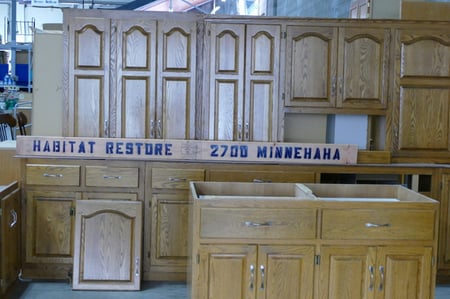 next summer.
Overall, she sees ReStores as a "win-win." Customers receive product at a lesser cost and a portion of the money goes towards building homes for families.
Hope also appreciates how helpful the staff is and how everyone works together to move the mission forward.
"They're always willing to jump right in and help. Together, we believe in the mission of Habitat and will do anything we can to make this store successful."