The Northwest Regular Crew has been around for nearly as long as Twin Cities Habitat for Humanity. Twenty-five years back, Twin Cities Habitat pulled together two dozen regular volunteers to form the group. Since then, members have come and gone, but the crew remains committed to working in the northwest metro area year round.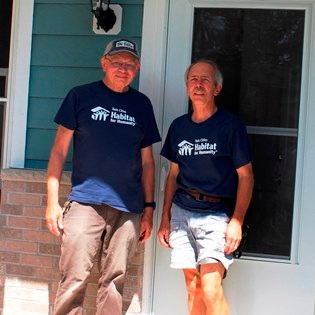 I recently had the opportunity to meet the current crew leader, Roger Salsbury (left), while he was on a build site in Fridley. The crew was small that day—just Roger and one other volunteer, Myles Koshiol (right)—but they were hard at work installing a handrail on the stairs (a task that's much tougher than it looks, I learned).
Roger is a 'second-generation member' of the Northwest Reg Crew. He's been volunteering with Twin Cities Habitat for eleven years, but many of the twenty members he started with have since "retired." That was Roger's word, not mine; the crew is made up of retirees, but they treat their work with Habitat as a second career. Most of them are on site twice a week, so they've become highly skilled workers who can take on a variety of tasks. They show up in the morning and jump right into the work with very little guidance or supervision. They're certainly pros, so it seems right to call it retirement when one of them leaves the group.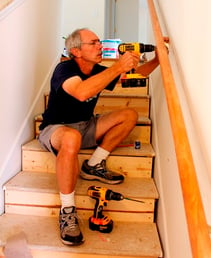 Myles started volunteering with Habitat about a year and a half ago, so he's a newer member of the crew, but he's already comfortable with the work. He likes working with a regular group, because, "We learn a lot from each other," and there's always someone around to answer questions.
When I asked them about their favorite things to do on site, Roger and Myles both shared that they prefer trim and other finishing work. "It takes a little more of a professional touch," Myles said, "and it's more rewarding." We often entrust this type of work to our reg crews, because they have the necessary experience and patience to do the job well.
Roger went on to say that, although the crew does more new builds these days, he really enjoys working on rehab projects. "It can be a real challenge to figure out how to bring [a rehab] back to life." It was clear to me that Roger loves a good challenge, one that requires thinking and planning. Sheetrocking, however, "My body doesn't like it anymore," he added with a laugh.
The pair also said they love working alongside homebuyers. They don't get to meet all of them, but when they do, Myles says, "Those are the best days." Roger recalled a recent conversation with homebuyer, Jeng, who is working on his family's home in North Minneapolis. He enjoyed talking with Jeng and hearing his story, because it connects the work they do each day to a real family.
The best part of the Northwest Regulars is, as Myles put it, "the sense of community." He said he would have a tougher time returning to site each week if he were working alone. "When you're working with a group, it lasts longer and it's more rewarding."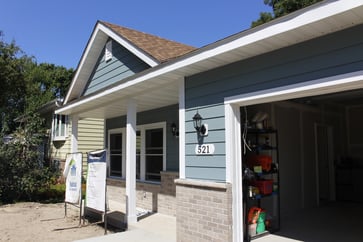 "It's really Habitat that has drawn our people together," Roger added. The crew is made up of former teachers, engineers, social workers, and doctors and none of them have any affiliation outside of the crew. He said he, too, is motivated to keep coming back because he's part of this community. "We all just want to volunteer with Habitat."
And that's exactly what they do. They volunteer twice a week with us, bringing an incredible amount of skill to the job site and sharing it with others. At times, they've even trained some of our site supervisors.
Over the years, members of the Northwest Reg Crew have worked on more than a hundred homes, helping to build brighter futures for hundreds of kids and their families. Thank you to the many members of the crew for all you've done and for your continued support of Twin Cities Habitat's mission!